Erick Erickson To Cavuto: If Liberal Groups Were Targeted By IRS Like Conservative Groups, Where Are They?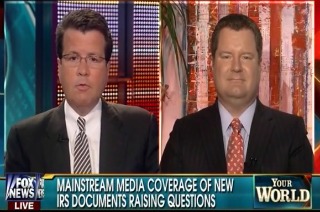 RedState.com co-founder and Fox News Channel contributor Erick Erickson joined Fox's Neil Cavuto on Tuesday to push back against the noting that the scandal surrounding the IRS's targeting of conservative groups has been derailed following the news that memos show the agency's representatives were tasked with looking out for liberal groups as well. Erickson said that it is clear conservative groups were targeted with undue scrutiny because no liberal group has come out and admitted to being forced to, for example, disclose "the content of their prayers."

"I guess it negates everything because some liberals went through it," Cavuto said.
"We know that this happened because Democrats in Congress found some documents, Neil, but when you actually look at the documents, it doesn't say what they say it showed," Erickson said.
He noted that some organizations that were liberal groups sought improper classification, while conservative groups that were seeking proper status were targeted with unnecessary and onerous scrutiny in the pursuit of that status.
RELATED: Scarborough Spars With Sam Stein Over IRS Targeting 'Progressive' Groups: Doesn't Take 'Legs Off' Scandal
"We don't know that that has happened to any liberal groups had that happen," Erickson said. "None of them came forward to say it and it, thus far, doesn't look like any of them did experience that level of harassment."
"It should burn you that they're doing this period, with anyone," Cavuto added. "Testing their political agenda and having them go through hoops."
"That's targeting and that's bullying," he continued.
Erickson said that he has been disappointed in Democrats who appear to want to protect the president when it is apparent that he has done nothing wrong personally. Erickson said that Democrats should want to see political scrutinizing by the tax collection agency ended.
"When the media takes the cover saying, 'Well, at least they were going after everybody,' that should incense everybody," Cavuto declared.
Watch the clip below via Fox News Channel:
> >Follow Noah Rothman (@NoahCRothman) on Twitter
Have a tip we should know? tips@mediaite.com