Erin Burnett Apologizes to Those Thinking She Called Sorority Girls 'Gang Members'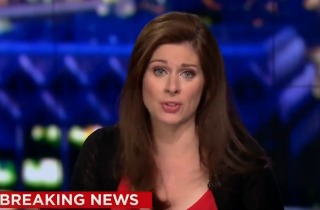 CNN anchor Erin Burnett apologized Thursday evening during her show for having, two days prior, mentioned that a Baltimore town hall will include members of local gangs while footage rolled that included sorority members in attendance.
While describing the crowd at the Tuesday evening town hall event — a gathering of leaders and groups in response to the death of 25-year-old Freddie Gray and subsequent protests that turned violent — Burnett mentioned how "you've got the gang members there," while on-air footage panned across the room, at one point showing a group of young women from the Zeta Phi Beta sorority. Watch that below, via CNN:
Several websites picked up on the peculiar moment, with largely negative social media reaction as a result. Not everyone agreed, however:
Either way, Burnett took a moment out of Thursday evening's broadcast to clarify and apologize for any misunderstanding:
A brief note on a segment from earlier this week: We talked with Baltimore Reverend Jamal Bryant about a community town hall he was hosting on Tuesday. He stressed the importance of gang members attending. Immediately after that interview, we showed a live picture of the town hall. I noted the reverend said gang members were attending, along with other members of the community, members of the sorority Zeta Phi Beta were shown in that live picture. We're sorry if anyone got the impression we were calling that sorority gang members; that wasn't our intention. Zeta Phi Beta, by the way, is a 95-year old organization which right now is distributing supplies to seniors in Baltimore, cleaning up the city, and getting ready to host a meeting on youth and law enforcement.
Watch that below, via CNN:
— —
Have a tip we should know? tips@mediaite.com