Erin Burnett On CNN's 'Truth About Benghazi' Special: 'A Reminder That There Have Got To Be Answers'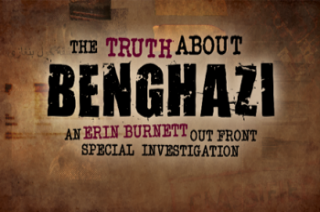 On July 31, CNN broadcast a portion of a bombshell interview that reporter Arwa Damon conducted with Ahmed Abu Khattala, a person named as a suspect in the September 11, 2012, attack on an American consulate in Benghazi, Libya. On Tuesday August 6, CNN anchor Erin Burnett will host a special which features that full interview and a number of striking revelations about the situation on the ground in Benghazi nearly one year after the attack which took the lives of four American diplomatic and service personnel.

"I was the one on the air at 7 p.m., when we first got word of an American killed in Benghazi," Burnett said recalling the 2012 attack. She remembered heading to the northern border of Mali in July of last year where she covered the story of Al Qaeda in North Africa. Remembering when President Barack Obama told an audience at a campaign rally that Al Qaeda "is on the run," Burnett tells Mediaite that, from her vantage point in Saharan Africa, the situation appeared to her to be precisely the opposite.
RELATED: CNN Interviews Accused Benghazi Attack Perpetrator: Not In Hiding, Claims FBI Not Looking For Him
Among the many details of the Benghazi attack that will be revealed in Tuesday night's CNN special is an expansion on a report by CNN's Drew Griffin which exposed the previously unconfirmed fact that more than 30 CIA agents were on the ground in Benghazi at the time of the attack.
"One of the guys we talked to was one of the key briefers for [American ambassador to Libya] Chris Stevens in terms of security," Burnett said. "He was basically saying that, because it was a CIA mission in Libya, they wanted a low security profile."
Burnett said that, according to the sources she spoke with for CNN, U.S. officials were simply unaware of the threats faced by American personnel in Libya due to the high level of secrecy surrounding the CIA operation there.
Asked about a former FBI agent who recently told Fox News Channel's Greta Van Susteren that it is likely that an investigation was ongoing and there is no reason for investigators to approach Khattala while he was under surveillance, Burnett said that she does not think "this adds up." "There were pictures released from the U.S. government," she said. "These were released – they hadn't been widely distributed – but the government put them out."
Damon conducted her interview with Khattala in May, but the security situation has only worsened since then. "The situation has deteriorated dramatically," Burnett added.
"At that time, it was significantly different than it as now," Burnett continued. "Arwa had to leave the country because it was too scary."
Among the more emotional aspects to Tuesday's special are Burnett's interviews with the family members of the men killed in the Benghazi attack. "These people are – they went through an incredible tragedy," Burnett said. "The personal nature of it was pretty transformational for me. You think about if that were you or your family."
She said that, with the exception of Pat Smith, the mother of slain Information Management Officer Sean Smith, the family members do not have a political axe to grind. According to Burnett, it was arresting how apolitically the family members viewed the atrocity, given how charged and partisan the issue of the Benghazi attack has become in the United States.
Burnett said that the family members only seek justice for their loved ones killed in the line of duty.
"You know the Navy SEALs and the special ops community, they have a good memory," Kate Quigley, sister of slain SEAL Glen Doherty, told Burnett. "It might not be tomorrow, it might not be this year, but at some point in time the individuals responsible are going to be found and there will be justice."
"They knew what they were dealing with and this is a reminder that there have got to be answers, and there has to be some kind of justice," Burnett concluded. "Because, at this point, we don't know if there will be justice."
The CNN special, "The Truth About Benghazi: An Erin Burnett Outfront Special Investigation," will air on Tuesday, August 6, at 10 p.m. ET and 7 p.m. PT
> >Follow Noah Rothman (@NoahCRothman) on Twitter
Have a tip we should know? tips@mediaite.com