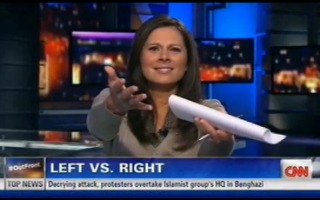 On Friday, CNN OutFront host Erin Burnett responded to recent claims by a couple of blogs — and actor Rob Lowe — that she has a political bias… favoring both sides of the aisle.
"Every night we ask, do the claims and actions of our political leaders add up?" she told viewers. "We take our fair share of criticism for this depending on what we say on any given night. And this week, it all came on the same day. On Wednesday, NewsBusters, a site that aims to 'expose and combat Liberal Media Bias' posted a story entitled 'CNN Hypes Romney Tape as 'Monumental Gaffe,' 'Manna from Heaven for the Left." In the column, the author wrote: CNN 'boosted the Obama campaign spin that Romney is out of touch with ordinary Americans' and 'Host Erin Burnett called it 'manna from heaven for the left' on her OutFront show.' The column concluded that I was helping 'keep the anti-Romney media firestorm raging.'"
"On the very same day that column ran," she continued, "the actor Rob Lowe, was watching our show when he tweeted… 'Erin Brown carrying some heavy water for President Obama right now on #CNN.'"
"You know, first of all, I was a little hurt that he got my name wrong," she said. "I mean, I know Rob Lowe and I actually thought we had something special. I mean when I interviewed him and his business partner Tom Barrack about a new movie venture, there was something special right off the top."
"But hey, it's Burnett, Erin Burnett," she clarified after showing a clip of her literally cute meet-cute with the actor. "And hey, I'm glad to know Rob thinks I'm a leftie because I wasn't sure. Because on the same day Rob Lowe and NewsBusters were calling me a liberal, I saw this story in a West Coast blog called the Examiner, which included the line: 'Conservative-leaning CNN host Erin Burnett took on the Republican charge. The article was about our story pointing out Mitt Romney supports redistribution if you look at his tax policy facts. My head was literally spinning. Am I a liberal? A conservative?"
"I can't lie — this political schizophrenia is deeply confusing," she said. "So we decided maybe we'll take the weekend off, you know, decide which side we fall on, decide who we're going to vote for. Or you know what? Maybe I'll just keep doing what I've been doing day in and day out. Taking the criticism and the chips where they may fall."
Ohhhhh we feel that, E-Burn. We feel that. And we're keeping our fingers crossed that our favorite celebrity couple, Burowe, shines on.
Have a look, courtesy of CNN:
Have a tip we should know? tips@mediaite.com