Erin Burnett Speculates On Reasons Why Romney Hasn't Released Tax Returns: Maybe 'He's Stupid'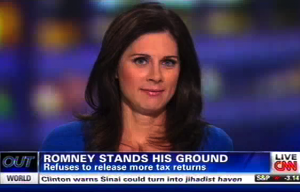 Okay, Erin Burnett doesn't actually believe Mitt Romney is stupid. But nevertheless, that didn't stop her last night from placing it on a list of possible reasons why the Republican candidate hasn't released his tax returns. In the segment, Burnett was actually making the case how Romney could give himself the advantage by releasing the returns, and was just puzzled by Romney's seeming unwillingness to do so.


RELATED: Jon Stewart Tears Into Romney's Weak Bain Capital, Tax Return Defense
Burnett held up two big stacks of paper to show the size of the tax returns Romney has already released. She said that there is "no need" for Romney to withhold any more of his tax returns, despite his continued insistence that he has merely complied with the law as past candidates have. Burnett argued the situation is unique for Romney because unlike most other presidential candidates, he has a strong business background.
She explained why it is both important and relevant for Romney to release more of his tax returns, and speculated on the possible reasons why he has not already.
"Mitt Romney is running on his business expertise. His tax returns are a relevant window into how he conducts his business affairs. If he refuses to release them, it is because one, he had a lot more money in tax shelters in prior years that he does now. Two, he did something shady. Or three, he's stupid."
Burnett's list was helpfully complemented by a graphic with the words "He's stupid" at the bottom of the list. The dual emphasis of Romney's possible stupidity was immediately followed by Burnett saying, "Mitt Romney is not a stupid man."
She gave Romney the benefit of the doubt and went with the first option, saying Romney could have easily gone through every loophole in the tax code. Burnett said Romney should release the returns, and if his tax rate was much lower owing to however he stored his money, he should come out and say it was too low. She also added that Romney could highlight his charitable donations, because from 2010 to 2011, he gave a higher percentage of his income to charity than was paid in taxes.
Watch the video below, courtesy of CNN:
—–
Follow Josh Feldman on Twitter: @feldmaniac
Have a tip we should know? tips@mediaite.com
Josh Feldman - Senior Editor