CNN's Erin Burnett Challenges Julian Assange Over Hypocrisy Of Ecuador Asylum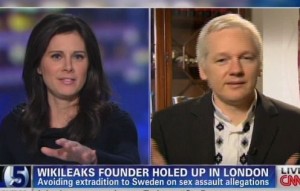 Julian Assange, the founder of WikiLeaks and a very public advocate for exposing government secrets, got into a heated back-and-forth with Erin Burnett earlier tonight over whether Assange could fairly speak out for free speech and freedom of the press while being given safe harbor by Ecuador, a nation not known for providing such freedoms.
RELATED: Julian Assange Granted Asylum By Ecuador
Burnett acknowledged the point Assange made about people being concerned over government surveillance but her question to Assange about his personal health was dismissed as he attempted to shift gears to make a broader point about exposing what governments do behind closed doors. When Burnett tried to press Assange to say if he is sick or not, he responded that the question was "unimportant."
Burnett then took note of the fact that Assange has been staying in the Ecuadorian embassy in London, remarking that Ecuador seemed to be an unlikely country to support Assange and his message of complete government transparency. Assange acknowledged that "all governments have their problems," and Burnett then tried to catch Assange by highlighting that he is advocating for free speech and transparency under the auspices of a government that is unaligned with those two goals.
Assange once again attempted to bring the focus back to a larger point about journalists being muzzled by governments in countries including the United States, but Burnett would not let him go on Ecuador. Burnett cited a finding from the Committee to Protect Journalists saying that Ecuador is one of the "most restrictive nations" for free press.
When Burnett mentioned that she didn't agree to talk with Assange about the surveillance state, Assange tried to bring someone else on camera, before dismissing her pinpointing just one nation's abuses when he claims he is concerned with governments all over the world. At one point he uttered, "Because Ecuador is insignificant!"
Assange did admit that the Ecuadorian people have been generous to him personally, and tried to downplay Ecuador's issues as "not a significant world player," unless of course they are protecting you.
Watch the video below, courtesy of CNN:
Have a tip we should know? tips@mediaite.com
Josh Feldman - Senior Editor