Es Ist Nicht Leicht Grün Zu Sein!: Kermit The Frog Is In Trouble With The German Authorities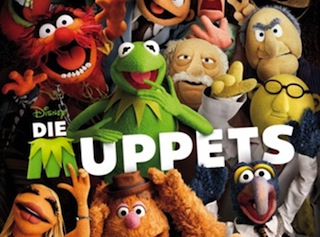 As anyone who's anyone knows, the Muppets have made a great return to the public consciousness this past year. However, as anyone who follows silly media "news" knows, they haven't been entirely embraced by everyone. In fact, the felt entertainers came up against Fox News a few months ago after some at the network decided their new movie contained secret Communist undertones. Well, things have just gotten worse. Apparently, Kermit the Frog has somehow angered the one group that's more terrifying than a Fox Business anchor; the Germans.
RELATED: Bill O'Reilly Responds To Miss Piggy's Swipe At Fox News: 'You'd Better Watch It'
Yes, as the Hollywood Reporter is reporting, Kermit has become Public Enemy Number Eins after accidentally ran afoul of Germany's product placement police. The Ad-zis, if you will.
"The channel [Pro7] used the famous frog to present its so-called Disney Day of programming, which featured several family-friendly films. But Kermit also mentioned the theatrical release of Disney's The Muppets. Because the promo was not marked on screen as an ad, Pro7 violated German media law, which bans product placement unless clearly identified as such. Pro7 has admitted the error."
What an interesting rule. I'd say we should implement it here in America but since American television has basically become nothing but nonstop ads with the occasional competitive singing slotted in, the constant message might get distracting.
Really though, first the Muppets get accused by a Fox Business Anchor of being too Communist and now the Germans think they're too Capitalist? It really isn't easy being green.
(h/t The AV Club)
Have a tip we should know? tips@mediaite.com