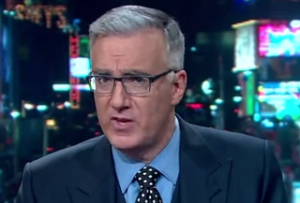 As Keith Olbermann and ESPN stall in renegotiating his contract, it appears as though one condition is to blame: The network's demand that he ditch his "commentary" voice on the show.
According to The Hollywood Reporter's Marisa Guthrie, Olbermann's harsh criticism of how the NFL handled Ray Rice's domestic abuse scandal (remember the elevator video) irked network executives, especially after the outspoken host called upon league commissioner Roger Goodell to resign.
ESPN has multiple lucrative television deals with the NFL, and so the network "walks a fine line," Guthrie wrote, anytime it allows hosts or commentators to bash the league. More from the report:
Sources say that ESPN management signaled their discomfort with Olbermann's commentaries a few days after news of Simmons' imminent departure from ESPN broke last May, when ESPN president John Skipper abruptly told The New York Times that he had decided not to renew Simmons' deal. (Simmons learned of Skipper's decision when the Times tweeted its scoop on May 8.)

[…] Olbermann's current deal is up in August. Skipper has said in the past that he intends to keep Olbermann. But he also said the same about Simmons. Of course, while Olbermann has many fans in the sports arena, he also is an established progressive voice — and reliable conservative foe. It is still possible that he'll stay at ESPN. But with a presidential election around the corner, he may be itching to get back to political commentary.
Following Guthrie's story, ESPN flatly denied that ditching his commentary is a possible condition of contract renewal: "Keith Olbermann has never been told any topic is off limits for his commentary nor has continuation of it been part of any conversation about his future at the company," the network told THR.
Read the full piece here.
Have a tip we should know? [email protected]