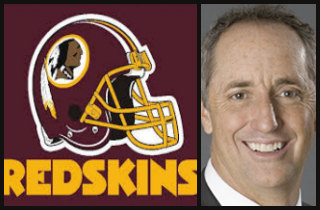 The nickname of Washington, D.C.'s pro football franchise has been a focus of much controversy lately. Some sports reporters and political commentators have banded together to swear off referring to the team as the Redskins, out of belief that the name is racially offensive and insensitive to Native Americans. In a new column, ESPN commentator Rick Reilly defended the team's name.
Explaining his reluctance to "fall in line" and stop writing out the words "Washington Redskins," Reilly revealed that his father-in-law is a member of the Blackfoot Nation, and he "has a hard time seeing the slap-in-the-face part" of the Redskins name. "The whole issue is so silly to me," he quoted his wife's father as saying. "The name just doesn't bother me much."
Citing several American high schools with majority Native American student bodies that proudly wear their own "Redskins" team names and worry that they'll have the name taken away, Reilly asserted, "Too late. White America has spoken. You aren't offended, so we'll be offended for you."
Reilly then set his sights on NFL commissioner Roger Goodell, who, last week, stated that if "even one person is offended" by something like the "Redskins" name, then the league needs to listen. "One person?" Reilly incredulously asked. "Guess we need to listen to people who are offended by the Kansas City Chiefs' name, too. That's one that offends my father-in-law. 'You see some little guy wearing a headdress made of chicken feathers,' he says, 'painting his face up, making a mockery of us. I hate that. Those are things you earn.'"
He mockingly cited other examples where "one person" might be offended:
I know an atheist who is offended by religious names like the New Orleans Saints and Los Angeles Angels of Anaheim. There are people who who don't think Ole Miss should be the Rebels. People who lost family to Hurricanes. There are people who think Wizards promotes paganism. Shall we listen to all of them? I guess so.
The veteran ESPN columnist also called out his colleagues for covering the Notre Dame Fighting Irish, the Cleveland Indians, and the Atlanta Braves, all without the same level of outrage directed at the Washington NFL football franchise. "Doesn't matter," he wrote. "The 81-year-old Washington Redskins name is falling, and everybody better get out of the way. For the majority of Native Americans who don't care, we'll care for them."
The kicker of the piece? "Trust us. We know what's best. We'll take this away for your own good, and put up barriers that protect you from ever being harmed again," he concluded. "Kind of like a reservation."
That final line (and the general thesis of the piece) has become the subject of derision from others in the media.
New York Magazine's social media editor: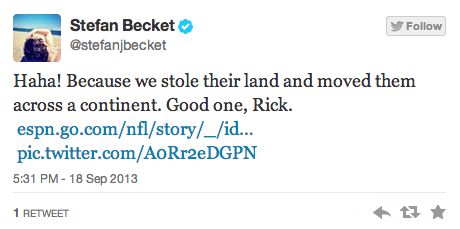 The Nation's sports editor: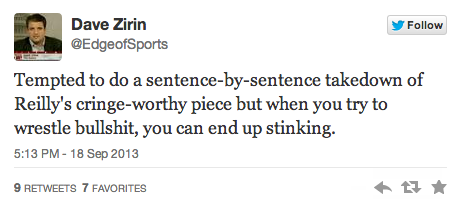 Associate editor at Yahoo's "Puck Daddy" blog: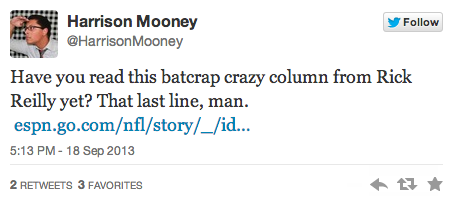 But the praise was also there. Like from this RedState.com editor:

— —
>> Follow Andrew Kirell (@AndrewKirell) on Twitter
Have a tip we should know? tips@mediaite.com