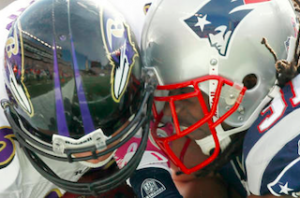 The New York Times published an article Friday that claims that ESPN is dropping out of a planned partnership with PBS' Frontline due to "pressure" from the NFL. Reporter James Andrew Miller cites "two people with direct knowledge of the situation" who claim that ESPN pulled out of a co-sponsored Frontline series on football and head injuries due to "intense pressure by the league." But now, ESPN is denying that their decision had anything to do with influence from their most lucrative partner.
"The decision to remove our branding was not a result of concerns about our separate business relationship with the NFL," ESPN said in a statement. "As we have in the past including as recently as Sunday, we will continue to cover the concussion story aggressively through our own reporting."
Those words followed a similar statement from the NFL, specifically addressing the lunch Miller chronicles in his story, reading, "It is not true that we pressured ESPN to pull out of the film. The lunch was requested several weeks ago by ESPN. We meet with our business partners on a regular basis and this was not unusual."
Meanwhile, PBS is also attempting to explain the situation on its website, with a letter that reads:
You may notice some changes to our League of Denial and Concussion Watch websites. From now on, at ESPN's request, we will no longer use their logos and collaboration credit on these sites and on our upcoming film League of Denial, which investigates the NFL's response to head injuries among football players.

We don't normally comment on investigative projects in progress, but we regret ESPN's decision to end a collaboration that has spanned the last 15 months and is based on the work of ESPN reporters Mark Fainaru-Wada and Steve Fainaru, as well as FRONTLINE's own original journalism.

Over that time, we've enjoyed a productive partnership with ESPN's investigative program, Outside the Lines, jointly publishing and co-branding several ground-breaking articles on our respective websites and on their broadcast. We've been in sync on the goals of our reporting: to present the deepest accounting so far of the league's handling of questions around the long-term impact of concussions. This editorial partnership was similar to our many other collaborations with news organizations over the years.

ESPN's decision will in no way affect the content, production or October release of FRONTLINE's League of Denial: The NFL's Concussion Crisis. The film is grounded in the Fainaru brothers' forthcoming book, also titled League of Denial, and the authors will continue to participate in the production and be featured in the documentary.

The film is still being edited and has not been seen by ESPN news executives, although we were on schedule to share it with them for their editorial input. The two-hour documentary and accompanying digital reporting will honor FRONTLINE's rigorous standards of fairness, accuracy, transparency and depth.
The network describes League of Denial as "a special two-part investigation examining whether — as thousands of former players allege — the NFL has covered up the risks of football on the brain." Whether it was because of direct "pressure" from the NFL or not, there was something about this project that told ESPN it was best to stay away.
Watch a trailer for the documentary series, which will air on PBS October 8th and 15th:
Watch "League of Denial: The NFL's Concussion Crisis" preview on PBS. See more from FRONTLINE.
[photo via PBS]
—
>> Follow Matt Wilstein (@TheMattWilstein) on Twitter
Have a tip we should know? tips@mediaite.com