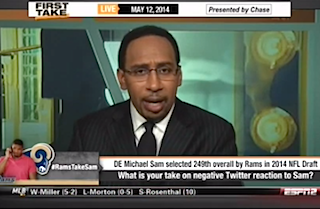 On Monday morning's First Take, ESPN commentator Stephen A. Smith warned that fining and suspending players for their adverse reactions to the televised kiss Michael Sam and his partner shared after finding out he'd been drafted by the St. Louis Rams was a "very, very dangerous" path to go down. After Miami Dolphins player Don Jones tweeted (and deleted) "OMG" and "horrible" in reaction to the kiss, he was fined and suspended from the team.
Smith took great pains to express that the kiss did not bother him personally, saying the way Sam reacted to the news was no different than what many other heterosexual players have done over the years. "If that's how he chose to express himself, so be it," he said. Despite the fact he had not yet seen the clip in question, Smith said he would tell the couple the same thing he would say to anyone else: "Get a room."
In terms of players tweeting about the kiss, Smith said he does not think players should be punished for their words. Citing freedom of speech, he said, "I think it's a very, very dangerous thing when people see something and they have a problem with what they're seeing and they express themselves, and ultimately they're fined."
RELATED: Former NFL Player Had Some Things to Say on Twitter About Michael Sam's Kiss
Again, Smith insisted that he's "liberal" in his thinking and "has always been an advocate for civil rights for the gay community," but at the same time wanted the gay community to understand that "not everybody is going to like you and like what they see."
"People should have the freedom to not want to be associated with that or not want that in their face," Smith said of Sam's public display of affection. "I don't have a problem with it, but I do respect those that do."
Later in the segment, commentator Skip Bayless pointed out that the Miami Dolphins perhaps have extra reason to be careful about players who could be perceived as "bullying" others after the incident involving Richie Incognito and Jonathan Martin last year.
Watch video below, via ESPN2:
[Photo via screengrab]
— —
>> Follow Matt Wilstein (@TheMattWilstein) on Twitter
Have a tip we should know? tips@mediaite.com