ESPN Host Laments 'Internal Problem' That Black Conservatives Are 'Pariahs' in Black Community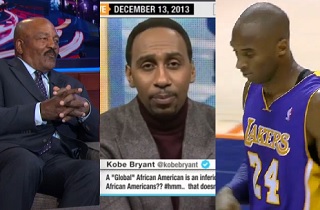 When outspoken ESPN columnist and First Take co-host Stephen Smith weighed in on the war of words between former NFL star and activist Jim Brown and NBA star Kobe Bryant, he took a detour into the politics of the black community. On Friday's First Take, Smith used the Brown/Bryant brouhaha as a pivot to the way the black community treats black conservatives, lamenting that "black conservatives are considered pariahs and are ostracized in our communities and it makes absolutely no sense whatsoever."
Jim Brown and Kobe Bryant are currently feuding over remarks that Brown made on Arsenio Hall's show last week, which had less to do with politics than with Bryant's upbringing in another country, and its effect on his black consciousness. Brown said Kobe was "confused about culture" because he was raised in Italy, not the U.S., and that if he were to organize athletes today, as he did in 1967 to discuss Muhammad Ali's conscientious objection to the Vietnam War, Kobe would not be invited:
Bryant responded, via Twitter, with this tweet:
A "Global" African American is an inferior shade to "American" African Americans?? #hmm.. that doesn't sound very #Mandela or #DrKing sir
On Friday, Stephen Smith told First Take co-host Skip Bayless that he spoke with Kobe before that tweet was sent, and that Bryant told him that this is "not a conversation that he's running from. He welcomes the opportunity to have that conversation."
Smith then used the Brown/Bryant flap to illustrate what he sees as a partisan political dynamic within the black community (transcript via TRS):
When it comes to the African-American community, you have a plethora of individuals. For example, the black population hasn't given the Republican Party more than 15% of its vote since 1964. And anybody who is deemed a black conservative, I am not one of them — I'm a registered Independent, just to get that out of the way — but those that I know who are black conservatives are considered pariahs and are ostracized in our communities and it makes absolutely no sense whatsoever.

But this is how — this is a problem that exists within our community. Because you are from our community, everybody believes that everybody is supposed to be identical to one another and we can't display or exercise any kind of versatility, alright, or range in our thinking. It's a problem that we have to deal with. It's an internal problem that exists and we're going to have to handle it because if we don't we're gonna see more Jim Brown's speaking out against more Kobe Bryant's and we're gonna see more Kobe Bryant's retaliating against the likes of Jim Brown.
Few would argue with Smith that black conservatives are treated with special contempt by many of the 90%-plus black people who vote Democratic, and while the Republican Party's reputation on race issues is a contributing factor, Smith's attribution of the phenomenon to reflexive rigidity is belied by his own facts. He's right that black people have voted overwhelmingly Democratic in the civil rights era, but even when the Democrats were still the party of the Ku Klux Klan, black voter party identification was still Democratic by a wide margin. this would appear to indicate that, while the Southern Strategy didn't help, black support for Democrats has more to do with policy than identity. The conception of the black community as monolithic is a white construct, based on the premise that diversity of thought only consists of the choice between being a liberal or a conservative. There have always been divisions among black people, as there are among whites, but most of them happen to agree on things like the right to vote.
Here's Stephen Smith's commentary, from ESPN2's First Take:
(h/t TRS)
Have a tip we should know? tips@mediaite.com