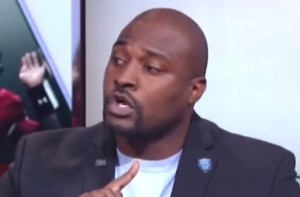 The hosts of ESPN's SportsNation accused Notre Dame football coach Brian Kelly of racism after he angrily shoved a black assistant coach during their Halloween game against Temple.
Kelly explained after the game that he shoved assistant coach David Grimes towards the sidelines because he was yelling at the refs, and he was worried Grimes would earn a fifteen-yard penalty. "I wish that situation never occurred," he said. "I regret that it happened."
But MSNBC ESPN host Marcellus Wiley saw the incident differently: "This is racial. You know I don't like to play the race card, but I'm going to go here on this one," he said. "When you see a black coach getting emasculated basically, undermined on the sidelines, when he's a coach with authority over those players, they're going to say, 'Huh, there are very few images and likenesses of a black player with the position of authority on the coaching staff.'"
Wiley continued to imagine the players' locker room thoughts. "'Brian Kelly, we tried to respect all of you guys on a level playing field, despite the fact that most of us on the field are black, but then most of you on the sidelines are white.' But when you undermine one of the few figures that we can actually see a likeness, now that speaks volumes to those players…"
"I guarantee you, if he thought that coach was of his equal, he would not go out there with the one-arm chokehold," Wiley insisted.
I like that point and I think it's right," agreed co-host Max Kellerman "It's a bigger deal than if it was a white coach or a white subordinate…"
"Are we post-racial? Obviously we're not. Is everybody the same or not? The answer is no. Our country's history does play into something like this,"he concluded.
Watch, via ESPN.
[Image via screengrab]
——
>>Follow Alex Griswold (@HashtagGriswold) on Twitter
Have a tip we should know? tips@mediaite.com