ESPN Roundtable Clashes over Due Process: NFL Should 'Be Above Judicial System'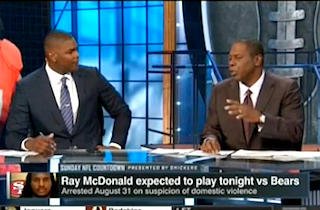 An ESPN NFL Sunday Countdown roundtable addressed the league's responsibility in addressing domestic violence Sunday morning, following multiple incidents involving NFL players charged with beating women (Ray Rice) and children (Adrian Peterson), added to which was this morning's deactivation of Carolina Panthers tight end Greg Hardy, who was found guilty of assaulting his girlfriend, while 49ers defensive end Ray McDonald, arrested on domestic abuse charges two weeks ago, is still expected to play tonight.
Keyshawn Johnson led the discussion, recalling when police were called to his home over a domestic dispute. He said that ESPN refrained from pilloring him pending the resolution of the charges (Johnson was later cleared of the charges), and argued that due process was a right that extended to all players. "Anytime your name is run through the mud, and not let due process take its place, your brand and your reputation is hit," Johnson said.
The rest of the roundtable disagreed. "I'm a bit torn," Tom Jackson said. "I understand the Constitution, the presumption of innocence. And yet the vast majority of women who accuse people of domestic violence, they are not lying. The facts of those cases are not disputed very often. I think I can see how the 49ers could leave Ray MacDonald on the field, but I certainly wouldn't care if they took him off."
"Yes, you deserve due process," Chris Carter said. "But it's a privilege to play in this game. …There's a certain amount of sacrifice that we had to make. And I'm willing to keep making that sacrifice so the next generation can still have a league to play in…So I don't care about no Ray McDonald right now, I don't care about no Hardy right now. I call for the NFL to be above everything, be above the judicial system. Let's be pioneers…We're in the NFL, we can do what we want to do. We can change the whole game."
Ray Lewis, no stranger to legal trouble, also weighed in. "What I sat through the most was the way people who didn't know nothing about what I was going through had things to say," Lewis said, before adding that now that he was on the other (commentary) side he understood that NFL players were role models whether they liked it or not.
"It comes down to one thing: is winning a game more important than doing the right thing?" Mike Ditka asked. "Evidently to some people it is."
Watch the clip below, via ESPN:
[Image via screengrab]
——
>> Follow Evan McMurry (@evanmcmurry) on Twitter
Have a tip we should know? tips@mediaite.com