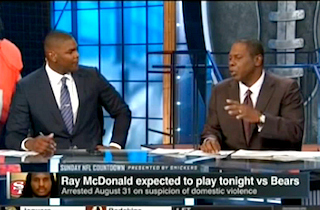 ESPN continues to try to thread the needle between holding the NFL to account for its handling of various domestic abuse scandals and maintaining its $15 billion broadcasting deal with the NFL that keeps everyone involved in the manner to which they've grown accustomed. This self-contradiction was encapsulated in the suspension of Bill Simmons for opining on what ESPN's own reporting had concluded about the NFL.

In that spirit, ESPN will feature Monday night a Deep Meaningful on domestic violence (not the network's first). But per Esquire's Ben Collins:
The panel for that discussion will include the following people: Chris Berman, Cris Carter, Mike Ditka, Adam Schefter, Tom Jackson, Keyshawn Johnson, Jon Gruden, Mike Tirico, Stuart Scott, Steve Young and Ray Lewis.

Up to 11 men, all between the ages of 39 and 74 will sit at the table for a domestic violence discussion on ESPN. Zero women. Victims of domestic violence in America are most likely to be women aged 20-24.

When the show has updates from the field—brief reports about injuries and the upcoming game—they'll cut to female sideline reporters, Lisa Salters and, on some weeks, Suzy Kolber.

These people are not allowed at the table.
Collins reads this as part of a widespread practice at ESPN of marginalizing female voices, a tendency that enables the network to submit to the powerful league at the moments when it most needs its editorial independence. Read the full piece.
UPDATE 12:54 pm.: ESPN says there's no there there:
Contrary to published reports in Esquire, there was no panel on domestic violence ever planned for tonight's Monday Night Countdown. We will present our normal Monday Night Football pre-game show, with Suzy Kolber hosting and Lisa Salters reporting. ESPN is proud of the work it has done covering the issue of domestic violence, and is committed to continued coverage. Much of that work has been informed by several talented female colleagues from our television and espnW platforms, including Hannah Storm, Jemele Hill, Jane McManus, Kate Fagan, Sarah Spain and more.
[Image via screengrab]
——
>> Follow Evan McMurry (@evanmcmurry) on Twitter
Have a tip we should know? tips@mediaite.com