ESPN's Hannah Storm Back To Work After Suffering Burns From Propane Grill Accident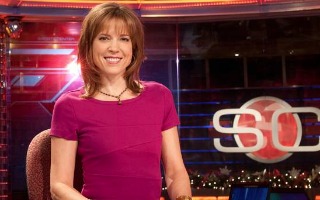 ESPN anchor Hannah Storm returned to the airwaves New Year's Day, three weeks after she was seriously burned in a gas grill accident at her home. Storm's first appearance will be to host ABC's telecast of the 2013 Rose Parade.
Storm suffered second-degree burns on her hands and chest and said her left hand will be bandaged on the air Tuesday. She also suffered first-degree burns to her face and nack and lost her eyelashes, eyebrows and half of her hair. She said viewers might notice in a difference in her hair, because she's added extensions.
"I'm a little nervous about things I used to take for granted," she told The Associated Press
by phone this weekend. "Little things like putting on makeup and even turning pages on my script."
Storms was preparing dinner for her family on December 11th when she noticed the flame on her propane grill had extinguished. She turned off the gas and then reignited it. Then, she said, "there was an explosion and a wall of fire came at me."
"It was like you see in a movie, it happened in a split-second," she said.
Storms screamed for help and attempted to take off her inflamed shirt. Her daughter Hannah, 15, called 911 and a computer technician who was working in her home grabbed ice to cool the burns.
Storm was taken to the Trauma and Burn Center at Westchester Medical Center by ambulance. She was hospitalized for 24 hours.
"I didn't see my face until the next day and you wonder how it's going to look," she said. "I was pretty shocked."
Regardless, Storm is looking at the bright side: "I kept thinking, 'I can do this. I'm fortunate.'"
The Nurses' Float at the Rose Parade interested Storms and she said she hoped she could thank everyone who had taken care of her on the air.
"More than anything, I feel gratitude," she said. "Something like this really makes you appreciate everything you have, even the chance to wake up on New Year's Day and do your job."
h/t ABC
—
>> Follow Anjali Sareen (@AnjaliSareen) On Twitter
Have a tip we should know? tips@mediaite.com