ESPN's Stephen A. Smith Goes Off: 'Our Ancestors Would Be Ashamed,' We Must 'Look Inward'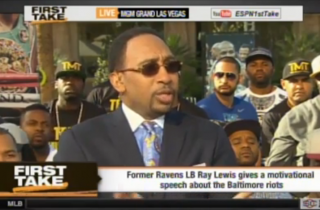 Stephen A. Smith had some harsh words for the Baltimore rioters during Wednesday's First Take on ESPN2.
Reacting to former Baltimore Ravens linebacker Ray Lewis' video chastising looters and rioters, Smith added that the predominantly black community should "look inward" before destroying itself with violent protests.

"Our ancestors, considering our history and what they had to go through and the sacrifices that they had to make to get us to this point, our ancestors would be ashamed of how we're conducting ourselves," he said. "And it needs to be addressed and it needs to be stopped because I see a whole bunch of young brothers and sisters out here right now. They're here with us. They wouldn't act that way."
Rioting in response to injustice, he added, will never yield productive outcomes. "You are going to lose," he said. "More importantly, if you pick up the phone, go on Twitter or social media or whatever, and condone this type of behavior, that's hooliganism. That's criminal activity going on, and it is against our own community."
Later on in the program, Smith lamented that "when you look at the looting and the vandalizing or whatever, you know, sometimes the message that gets disseminated is more powerful than the actual incident itself." According to the sportscaster, when the media and society at large see a few young black people stealing, "It taints all of these law-abiding sit sense that are here. Society looks at all of us and they say, 'Is that how you're acting? Is that what you are about? Is that what you care about?'"
Ultimately, he concluded about the rioters, "they're criminals, treat them like it and deal with them accordingly and let's go from there."
The show's live audience in Las Vegas applauded.
Watch below, via ESPN2:
— —
Have a tip we should know? tips@mediaite.com