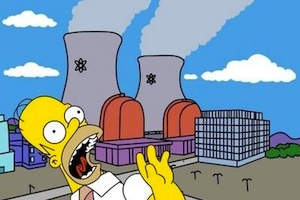 A few weeks ago, I was in Universal Studios theme park in Orlando riding the ride based on The Simpsons, which has a plot based partly around a nuclear accident in the fictional town of Springfield. With most of the globe watching anxiously and nervously to see the full extent of Japan's nuclear problems, jokes involving the cartoon Professor Frink desperately trying to warn Krusty the Clown about a dangerous nuclear reactor were suddenly less funny. Clearly, I'm not the only one to notice the tricky issue of the long-running series' prevalent radiation-based humor (after all, Homer Simpson works in a nuclear power plant), as European TV networks are now going through and picking out certain episodes to stop airing until the danger subsides.
The Hollywood Reporter has the details on some of the episodes that are being pulled:
"Austria's ORF has already pulled two episodes set to broadcast: Episode 66, Marge Gets a Job, which features scientists Marie Curie and Pierre Curie dying of radiation poisoning; and Episode 346, On a Clear Day I Can't See My Sister, in which characters joke about a nuclear meltdown. Tagesspeigel says ORF has held back eight Simpsons episodes until the end of April, when it will review its Springfield disaster policy.

So far, neither [Germany's] Pro7 nor Swiss network SF have pulled any Simpsons episodes but both channels say they are screening shows for 'unsuitable' references to nuclear disaster."
In America, Twentieth Television, which syndicates the series, has offered a list of episodes that contain jokes that may be objectionable, giving stations the choice of whether or not to air them. Al Jean, the series' executive producer, spoke to Entertainment Weekly and said he understands the issue, comparing it to the New York episode that had all references to the World Trade Center removed after 9/11 (which, in a fun side note, some…um…interesting folks believe The Simpsons predicted). And, he points out, considering how many episodes of the show there are, losing a few for a while isn't the worst thing in the world.
He also promised that the issue won't affect any upcoming new episodes.
From Entertainment Weekly:
"Jean assures that no upcoming Simpsons episodes 'even approach' the subject. 'Some of them are workplace shows, but they are just about Homer being at work,' he says. 'They're not about nuclear power.' And in case you were wondering, there are no plans to have Homer leave his job at the Springfield Nuclear Power Plant. 'He's still going to work there,' says Jean. 'We have a rich universe in which we can do a million things and not touch on that.'"
(h/t AV Club)
Have a tip we should know? tips@mediaite.com