Eva Longoria Tells Andrea Mitchell: Romney Is On Wrong Side 'Of Every Issue Pertaining To Latinos'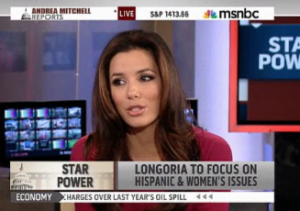 Actress Eva Longoria chatted with MSNBC's Andrea Mitchell on Monday about women's issues in the current political campaigns. As a co-chairwoman of President Obama's re-election bid, she predictably said Obama was the best candidate for women's rights. Later, addressing the Latino vote, Longoria stated Mitt Romney was on the wrong side of all the issues concerning Latinos.
The Desperate Housewives star's new political role is focused on issues concerning women's rights and Hispanics. Women will be able to see which side of the political spectrum supports them, she said: "There is an attack on women's healthcare and President Obama's policies are the only ones that are going to move that forward or move the agenda for women's rights. There's some much dismantling of what we've accomplished as women by the right side."
Pivoting to the Hispanic vote, Longoria then spoke about how Mitt Romney has sought out Latino voters. In light of his win in Puerto Rico, Longoria said Romney made a "huge generalization" by saying that victory means he would get the Latino vote.
Rather bluntly, Longoria said, "Of all the candidates, Mitt Romney is probably the one on the wrong side of every issue pertaining to Latinos. Education, the economy, healthcare access."
Asked about the Obama administration's underwhelming progress on immigration reform, Longoria acknowledged the disappointment and said Obama can't do it by himself: "He's done what he can do without having his hands tied by Congress."
Obama, she said, is the only candidate who understands that America's success is intricately tied to the success of the Hispanic community.
Take a look, via MSNBC:

Have a tip we should know? tips@mediaite.com