Evangelical Leader And GOP Strategist Battle Over Same-Sex Marriage's 'Radical Agenda' On Fox News Sunday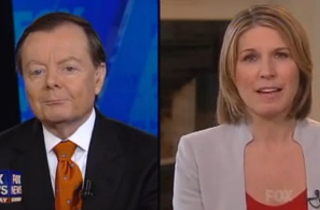 On Fox News Sunday this morning, evangelical leader Gary Bauer and Republican strategist Nicolle Wallace went head-to-head over the upcoming Supreme Court hearings on overturning Proposition 8, California's controversial law banning same-sex marriages within the state.
"You don't advance limited government by being an anti-democratic movement that is attempting to take this issue away from the American people," Bauer said of Wallace and other conservatives who submitted an amicus brief to the court. "What the brief is asking for and what the groups waiting outside the Supreme Court are asking for, is for unelected judges to deny the people of the states the right to decide what marriage is in their state."
He decried the "radical movement" to "redefine marriage" as a "profoundly unconservative thing." Once used only be "liberal Democrats," according to Bauer, the same-sex marriage movement is the latest example of the courts forcing "radical social change."
Through a brief back-and-forth, host Chris Wallace seemed to get Bauer to reveal that while he believes same-sex marriage should be decided by the states, he believes a federal ban on marital benefits for same-sex couples is perfectly constitutional.
When reminded that President Bill Clinton has changed his mind on same-sex marriage, despite having signed the Defense of Marriage Act in 1996, Bauer chalked up the transition to "a full-court blitz by the popular culture, by elites and all kinds of folks to intimidate and to cower people into no longer defending marriage between a man and a woman."
Former George W. Bush advisor Wallace countered that Bauer faces polling troubles in that 65% of evangelicals under the age of 33 support marriage equality; and more than 60% of Americans support some form of marriage equality.
"The argument that the public is overwhelmingly in favor of same sex marriage is ludicrous," Bauer later responded. "33 states have voted to keep marriage the union of one man and one woman. If it was so obvious that the American public wants to try a radical social experiment that results in children in those households, definitely, definitely, not having a mother and a father … If the opinion of the American public was so overwhelming, the gay rights movement and their allies like Nicole wouldn't be asking the Supreme Court to say to the American people, 'You have no say on this issue.'"
When presented with polling data that shows an upward trend in Americans supporting same-sex marriage, Bauer responded, "I'm not worried about that because the polls are skewed." He added that the votes to legalize same-sex marriage in four states this past November still had around 45% "no" votes, outrunning Romney in many places.
Watch below, via Fox:
— —
>> Follow Andrew Kirell (@AndrewKirell) on Twitter
Have a tip we should know? tips@mediaite.com