Even Democratic Congresswoman Can't Speak On Chris Matthews Show: 'If You'd Let Me Get A Word In'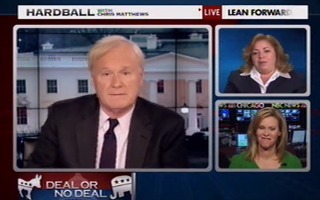 Congresswoman Linda Sanchez (D-CA) said today what so many have thought during a Monday appearance on Chris Matthews MSNBC program Hardball. Amid a conversation about immigration reform, Matthews asked Sanchez a question in the form of a critique of Republicans, and then asked a straight question, then answered his question, then finally asked Sanchez to respond to his answer. After trying to reply and getting cut off several times, Sanchez had had enough and asked Matthews when he was going to let her "get a word in edgewise."

"People that believe in border protection, who believe you can stop somebody from coming into this country by higher towers, or more drones, or more people working there, I think, are right-wingers or idiots," Matthews opined.
"If you want to work and you're looking for a job, you're going to come to America, Congresswoman," he added. "You're going to come in here and you're going to find a way in; whether you have to take a boat, an airplane, or swim – whatever you have to do, you're going to get here."
"My question is, are we going to have a work permit situation that's truly enforced so there'll be no incentive to do that, because you can't work in the United States unless you're here legally," Matthews continued over Sanchez's repeated attempts to respond.
"If we ever have a system like that, we won't be having this debate 20 or 30 years from now," Matthews concluded. "Your thoughts?"
Finally, Sanchez replied: "Well…"
"Because we never stop talking about it," Matthews said, cutting off Sanchez's long-awaited answer.
"If you'd let me get a word in edgewise," Sanchez began. "I will tell you…"
"You have all the time in the world to answer my question," Matthews insisted.
Watch the clip below via MSNBC:
> >Follow Noah Rothman (@NoahCRothman) on Twitter
Have a tip we should know? tips@mediaite.com