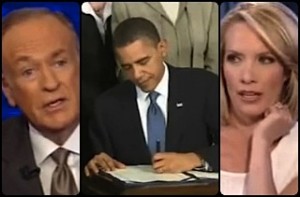 You know the tea party conservatives are in trouble when they can't even get Fox News' most opinionated hosts to back their plan to defund the Affordable Care Act. House Republicans made a big show Friday of voting along party lines to fund the government through the end of the year while stripping President Obama's signature legislation of the money needed to make it work.
Typically, even when a maneuver like this has no chance of achieving its supposed goal, Republicans can at least count on support from Fox's powerful pundits to help push public opinion in their direction. But not this time.
In his speech following Friday's vote, House Speaker John Boehner, who as recently as this past November suggested that he would not fight to repeal Obamacare, calling it the "law of the land," delivered a defiant challenge to the Senate. "The American people don't want the government shut down and they don't want Obamacare," Boehner said, surrounded by his fellow House Republicans. "The House has listened to the American people. Now it's time for the United States Senate to listen to them as well."
But all those millions of (mostly conservative) Americans watching Fox News may be coming to grips with the idea that Obamacare is here to stay. Some of Fox's most conservative hosts, themselves no big fans of Obamacare, have been speaking out over these past few days against what they view as the GOP's futile attempts to defund the law. And, if Republicans succeed in shutting down the government over the issue, those same hosts believe that the negative blowback will be far worse than any good will they receive from constituents who "don't want Obamacare."
Just yesterday, the hosts of Fox's The Five, who, save Bob Beckel, have been uniformly anti-Obamacare, opened their show by essentially warning House Republicans against the "risky" move they were about to attempt. Dana Perino called their handling of the issue a "farce." Greg Gutfeld actually found himself praising President Obama's "success" in getting the GOP to "eat themselves." And even Eric Bolling, who was trying his hardest to give House Republicans some credit, was shamed into revealing the true opinions he shared with his hosts during a commercial break the day before. Bolling said he thinks the GOP should "move on" because he doesn't think they're going to win.
Watch video below, via Fox News:
Then there's Bill O'Reilly. From his views on gay marriage to immigration and more, O'Reilly is often happy to break from the most hard-right sect of the Republican Party. But as host of the most-watched show on America's most-watched cable news network, he carries an enormous amount of influence over the conservative conversation. That's what made it so striking to see O'Reilly completely write off House Republicans' attempts to defund Obamacare during last night's broadcast.
O'Reilly clashed with Tea Party Express chair Amy Kremer, who appeared to be making a last-ditch case on behalf of tea partiers all over the country who fear the imaginary disaster that will definitely not occur once Obamacare is full implemented on October 1st. O'Reilly came off like a reasonable, realistic Democrat next to the desperate Kremer, telling her it's "impossible" for the House to succeed in its goal. "I don't know what I have to do… to tell you not going to happen," he pleaded.
Watch video below, via Fox News:
Another sign that Fox's conservative commentators have diverged from the tea party? The network is now raising the ire of some of right-wing radio's biggest talkers. Mark Levin went on a particularly harsh tirade against Fox on Thursday night. "I say this with all due respect, because Fox is my favorite cable network," Levin told his listeners. "Karl Rove and Dana Perino, it's like they're endlessly on all the programs there, hawking the establishment Republican position." He went on to single out Neil Cavuto and Sean Hannity as the only two Fox hosts conservatives can trust to "advance the cause."
Rush Limbaugh hasn't been any kinder to "establishment Republicans" in general. Earlier this week, Limbaugh defended Sen. Ted Cruz (R-TX), who at least until recently was standing with the House GOP on the effort to defund Obamacare, from "conservatives" like New York Times columnist David Brooks who are advocating compromise. Limbaugh continued to make his case for the defunding of Obamacare yesterday, putting forward the curious argument that if America could get rid of a "law of the land" like slavery, we should also be able to eliminate the Affordable Care Act.
Of course, now, even Ted Cruz is falling more on the Fox commentator side of the conservative spectrum. As a member of the U.S. Senate, he has become at least slightly more aware of the political realities that will stop the "defund Obamacare" attempt from actually making it past the floor of the House. For making the mere suggestion that the House bill would fail in the Senate, he has drawn the wrath of numerous "unnamed aides" in the House.
When it comes down to it, in the war between the (semi-)rational Republicans in the Senate and the increasingly delusional Republicans in the House, the opinion arm of Fox News appears to have planted its flag on the Senate side. Fortunately for the House, they still have extreme right-wing radio hosts like Levin and Limbaugh willing to go to bat for them across the airwaves. Unfortunately for those who want to see Obamacare disappear, Fox's leading opinion-makers are right: It's "not going to happen."
[photos via screengrab]
— —
>> Follow Matt Wilstein (@TheMattWilstein) on Twitter
Have a tip we should know? tips@mediaite.com