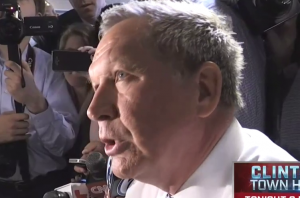 Despite announcing an agreement Sunday with the Ted Cruz campaign that they would pull out of Indiana, John Kasich said Monday that his supporters in Indiana should vote for him instead of Cruz.
The Kasich campaign's statement sure sounded a lot like they were conceding Indiana, saying they were giving Cruz a "clear path in Indiana":
Due to the fact that the Indiana primary is winner-take-all statewide and by congressional district, keeping Trump from winning a plurality in Indiana is critical to keeping him under 1237 bound delegates before Cleveland. We are very comfortable with our delegate position in Indiana already, and given the current dynamics of the primary there, we will shift our campaign's resources West and give the Cruz campaign a clear path in Indiana.
But Kasich appeared to muddle matters somewhat when being interviewed by reporters in a Philly diner, telling them he was still asking Hoosiers to vote for them. "I'm not going to spend resources in Indiana, I'm going to spend them in other places," he told reporters. "So what? What's the big deal?"
"So who should your supporters vote for in Indiana?" asked a reporter.
"I've never told them not to vote for me," he responded. "They ought to vote for me. But I'm not over there campaigning and spending resources."
Confusing matters further is that Kasich's own Indiana campaign co-chair said the exact opposite in an interview Sunday night. "Kasich is asking his supporters in Indiana to vote for Cruz so Trump does not win Indiana…" Carmel mayor Jim Brainard told The Indianapolis Star.
Watch above, via MSNBC.
[Image via screengrab]
——
>>Follow Alex Griswold (@HashtagGriswold) on Twitter
Have a tip we should know? tips@mediaite.com