Ex-CBS Reporter Eric Engberg Continues Battle with O'Reilly: 'He's Completely Nutty!'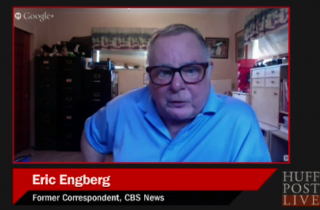 The Bill O'Reilly controversy continues into this week, as his ex-CBS colleague Eric Engberg appeared on HuffPost Live to continue disputing the Fox News host's claims about his reporting from Argentina some 33 years ago.
O'Reilly has been fending off Mother Jones accusations that he embellished details about his reportage from a Falklands War-era protest in Buenos Aires. His former colleague Engberg was also present in the city, and has repeatedly contradicted the Fox host's claims. In return, O'Reilly has suggested Engberg wasn't actually there, and was known as "Room Service Eric" for having allegedly holed up in a hotel while Bill was out reporting on supposedly violent riots.
"He's completely nutty," Engberg told HuffPost Live host Marc Lamont Hill on Monday morning, before reiterating his claims that O'Reilly has exaggerated the nature of the protests they witnessed in Buenos Aires.
We won't go through each and every point, as it's been repeated on these pages over and over again, but Engberg did address what he feels are personal jabs from O'Reilly, like suggesting Engberg stayed in his hotel room the entire assignment.
"He's nutty about me," Engberg said. "He says that I was hiding in my hotel room, which is another one of those classic O'Reilly responses to any kind of criticism of him. It's always to fire back some personal slur at whoever made the criticism rather than respond to the criticism. I was ready for it and I'm laughing at it."
Hill pushed back a tad, wondering whether it's a "lie" or just a semantic mistake for O'Reilly to have called the protests a "combat zone." Engberg clarified that he hasn't suggested O'Reilly lied about his reportage, but rather that he lied about his colleagues having stayed in their hotel rooms.
He also suggested O'Reilly is "bitter" about CBS allegedly having decided, shortly after the Buenos Aires incident, that he was not the best option for a correspondent. "He was sent back to New York… and ultimately he was told he wasn't going to make it as a CBS news correspondent," the former reporter alleged. "It was because he was calling names at people."
Watch the full interview below, via HuffPost Live:
— —
Have a tip we should know? tips@mediaite.com