Ex-CBS Reporter Eric Engberg Disputes O'Reilly's Claims: He's 'Not a Real Reporter'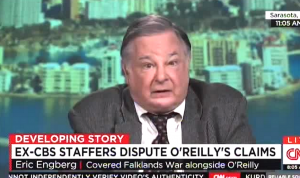 While Bill O'Reilly phoned into Fox's MediaBuzz to go off on his former CBS colleague Eric Engberg and Mother Jones editor David Corn, the former appeared on CNN's Reliable Sources to reiterate his allegations.
Engberg revealed to CNN host Brian Stelter that he was motivated to come out and criticize O'Reilly because of an unearthed 2009 video in which the Fox host suggested all his CBS colleagues hid in their hotel rooms during the same supposedly protests the now-Fox host claimed to have seem deadly violence.
"What he said was a fabrication, a lie," Engberg said, before alleging that contrary to O'Reilly's claims, then-CBS chief Larry Doyle was unhappy with how O'Reilly had acted while covering the riots in Buenos Aires. He also claimed that the photographer who O'Reilly claimed to have dragged out of the protests was actually "upset" the CBS reporter had exposed him to danger.
Engberg also disputed O'Reilly's claim that Argentinian police were "shooting people down" in the streets. "I didn't see that happen," the ex-CBSer told CNN. "I don't know of any American foreign correspondent who had a weapon pointed at him. I didn't hear any gunfire. Not only did I not hear any gunfire, as I say, I didn't hear any sirens."
He added: "I came to Argentina from years of experience in Washington covering anti-war demonstrations against the Vietnam War. I saw more violence in anti-war demonstrations in D.C. than I saw in Argentina that night."
And so went much of the rest of the interview: O'Reilly's claims were presented, and Engberg disputed them. At one point, Stelter frustratedly noted the "he said, she said" nature of this controversy, especially because many of the claims at hand cannot be independently corroborated.
Asked about whether he has a "personal dispute" with O'Reilly, the former CBS reporter said, "I have this personal dispute with him: He's not a real reporter. He was not in a combat zone that night. This was not a combat zone. Not even close."
Watch the full interview below, via CNN:
— —
>> Follow Andrew Kirell (@AndrewKirell) on Twitter
Have a tip we should know? tips@mediaite.com