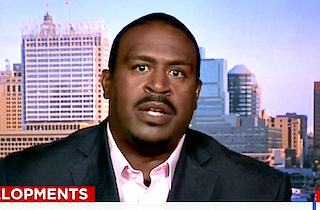 Wally Williams, a former Baltimore Ravens left guard and current sports analyst for CBS Baltimore, doesn't buy the NFL's story that it hadn't seen the Ray Rice video until TMZ released it yesterday, and thinks the league is scrambling to hide that fact that the video makes Rice's two-game suspension look even worse than it already did.
"The way the situation was handled, the two games and that whole deal, I think everybody believed that that was not enough," Williams told CNN's New Day Tuesday morning. It's just that the protocol that was in place, put forth by the NFL, put forth by our judicial system as we know it, as far as we all know [NFL Commissioner Roger Goodell] followed that to the tee and was advised by his lawyers and everybody."
RELATED: TMZ's Harvey Levin: We Have Proof NFL 'Turned a Blind Eye' to Ray Rice Video
"So to come back now and say that this needs to have more precedent, this needs to have more punishment, I think it is a total cover-up by the NFL," Williams continued. "They're just trying to save themselves on this one. They all had the opportunity to see this video. I've been around these buildings. It is very secure. The security system is right there in front of you. FBI, local police, everybody is right there at the facility on a daily basis. For these individuals not to know about this video, I agree, it's very hard to believe."
The NFL released a statement Monday saying it had not seen the video, a claim immediately disputed by sports reporters. Shortly after that statement, the NFL suspended Rice indefinitely.
[Image via screengrab]
——
>> Follow Evan McMurry (@evanmcmurry) on Twitter
Have a tip we should know? tips@mediaite.com