Ex-WaPo Reporter Goes Off on Virgin, Accuses Them of 'Stealing' Her Friend's Life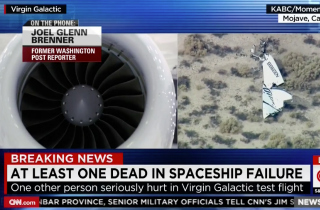 In the wake of SpaceShipTwo's deadly Friday afternoon crash in the Mojave Desert, former Washington Post reporter Joël Glenn Brenner went on CNN and bluntly accused Virgin Galactic of having "stolen" the life of her friend, the unnamed pilot who perished.
Speaking by phone with CNN's Richard Quest and Brooke Baldwin, Brenner nearly broke into tears as she described how despite witnessing the successful launch of SpaceShipOne in 2004, she feels as though "the enthusiasm that's been shown outwardly by Virgin Galactic and by [CEO] Sir Richard [Branson] certainly does not match at all with the technology behind the scenes."
She suggested the SpaceShipTwo engine was not up to snuff, and so "there is a big gap there and has been for quite some time." Brenner also noted that she will be documenting the "real problem" at Virgin in the future, before dropping a bomb on her interviewers:
I will tell you this as well: This engine that exploded today — even if they had had a successful flight, and even if they had not stolen my friend's life, okay, they would not have ever gotten anywhere near space with this engine. Okay? So I am here to say that they took this pilot's life and this engine still would not have gotten customers to space.
At one point she suggested she knew Virgin would not be happy with her leveling such accusations, but that she had to speak the "truth."
Watch below, via CNN:
— —
>> Follow Andrew Kirell (@AndrewKirell) on Twitter
Have a tip we should know? tips@mediaite.com