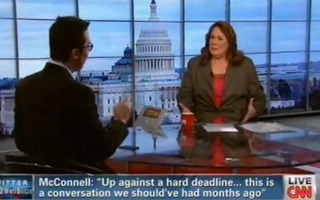 With Senate Majority Leader Harry Reid (D-NV) and Minority Leader Mitch McConnell (R-KY) heading back to the floor of the upper chamber to deliver dueling speeches blaming the other for Congress' failure to reach a compromise to resolve the fiscal cliff, CNN anchor Candy Crowley expressed exasperation with President Barack Obama's hands-off approach to dealing with Congress. She asked why the White House was not dealing directly with House Speaker John Boehner (R-OH), to which her guests replied that Democrats may see a political advantage to going off the cliff in January.

CNN correspondent Dana Bash told Crowley that she believes that both Congressional Democrats and Republicans seem to think that the other side of the aisle will take most of the blame for going over the cliff if a compromise cannot be reached.
"What are they all doing here," Crowley asked New Yorker reporter Ryan Lizza. "If nobody is interested in getting this deal…"
Lizza replied that he thought the White House genuinely does not want to go over the cliff. "They're scared what could happen to the markets," Lizza said. "They're scared of our credit rating going down."
"If they were that scared, why aren't they dealing with Boehner," Crowley asked.
"I think they think they lost their negotiating partner once Boehner's ploy last week failed," Lizza replied.
Bash weighed in, saying that the White House is more wary about going over the cliff than Democrats in Congress. "Democrats here in Congress feel that it's really a win-win for them politically," Bash said.
She closed by noting that no one recalls who President Herbert Hoover's Speaker was. If there is an economic calamity in 2013, the president's legacy will suffer most.
Watch the clip below via CNN:
> >Follow Noah Rothman (@Noah_C_Rothman) on Twitter
Have a tip we should know? tips@mediaite.com