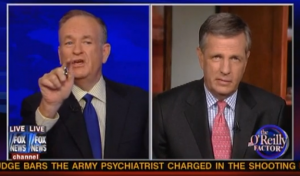 On the heels of President Obama's press conference at the G-20 summit, in a live show, Bill O'Reilly was prepared to analyze the Obama's remarks with guest Brit Hume. Much to O'Reilly's horror, the president delivered "the most boring press conference I have seen in 37 years of covering the news." So, deprived of a good soundbite, he devoted the segment to railing against how Obama's boring remarks were full of non-answers.
Unable to shake it off, O'Reilly reiterated, "I have never seen anything more boring than that ever" — before going on to make a recommendation regarding Russian President Vladimir Putin: "You have got to slap him right there. Slap him." Putin, he said, is "a villain" who consistently "thumbs his nose at America."
Chiming in, Hume conceded the presser wasn't interesting, but added, "It's a natural function of the fact that the president really didn't have anything new or dramatic to announce in his statement." The probing questions, he said, didn't get anywhere — which spurred O'Reilly's critique further. Obama was asked if Putin cooperated at all with Syria, an important matter, and "gave a four-minute answer that meant nothing."
"This really offends me," O'Reilly added. Obama didn't make any sense and didn't tell us anything new, he said. Instead, he regurgitated the same diplomatic talking points. Visibly worked up, O'Reilly said Obama isn't being honest and he "resents" that…before asking for Hume's assistance in calming him down.
Hume noted that nothing came out of the summit, and so, despite the presser's primetime timing, the president had nothing notable to report back. Last question, O'Reilly asked: "What was the most important thing about that press conference tonight?"
Hume replied, "The most important thing about that press conference is that there was nothing important about that press conference."
"You are wrong," O'Reilly said. "The most important thing about that press conference was that it ended."
The segment below, courtesy of Fox News:

Have a tip we should know? tips@mediaite.com