Exclusive: Behind The Scenes At Current TV's Democratic National Convention Coverage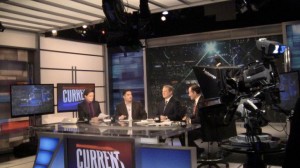 Since going from being the Little Cable News Network That Could to the Little Cable News Network That Lost Its Problem-Child Star, Current TV has been hard at work building a schedule of progressive programming, carving out a young audience by innovating their way past challenges. Mediaite went behind the scenes for their Democratic National Convention coverage to see how it's all working out.
Since making the decision to move toward a lineup of progressive news, Current TV has kept on trucking through the departure of their marquee star, among other challenges, to build a schedule that now includes twelve hours of political news programming, including a primetime lineup that features internet pioneer Cenk Uygur, former Governors Eliot Spitzer and Jennifer Granholm., California Lt. Gov. Gavin Newsom, andnew additions Joy Behar and John Fugelsang.
Thursday night's coverage brought together Uygur, Gov. Spitzer, Fugelsang, and Current co-founder and former future President Al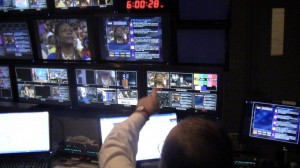 Gore, while Gov. Jennifer Granholm was on the scene in Charlotte to deliver her barn-nuking speech. What they lacked in on-the-ground and air resources, Current made up for with an innovative approach to covering the convention that included a gee-whiz real-time cloud feature on their website, and an onscreen social media component that included tweets from every one of the thousands of delegates who were on the floor of the convention. While the onscreen presentation would have greatly benefited from a widescreen format (Current is still not available in hi-def), it surely didn't look like anyone else's. It looked like the future.
As important as the network's youth-skewing innovations is the chemistry of this odd Addam's Family of onscreen talent, a group which, in hindsight, it is easy to see that Keith Olbermann wouldn't fit in with. In interviews and elsewhere, I've had the chance to get to know an inordinate number of Current staffers and talent, and while they share certain commonalities with all media outlets, there's a strong hang-together family dynamic. When there's (even private) griping, it's about the world versus them, not each other.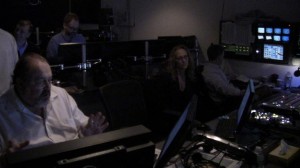 Current's New York studio, to strain the metaphor, is like an extended family starter home, densely-packed (with no room for a chandelier), but organized for maximum effect. Especially compared to the gleaming studios of an MSNBC or CNN, the Current studio has an almost steampunk vibe. On Thursday night, Current TV President David Bohrman presided over the control room like a gruff-but-lovable 21st Century Lou Grant, explaining the goings-on with cranky enthusiasm.
On the air, the anchors provide analysis and commentary on the convention speeches, with a focus on the social media component that often ends up looking like an afterthought on other outlets, and with a point of view that is unquestionably unique. Off the air, the entire place is on fire following the speech by The War Room host Gov. Jennifer Granholm. Twitter is blowing up with Granholm-mania, and the internet is buzzing like a beer-pong tournament. During breaks on the set, there's easy banter and excitement.
All of the effort seems to have paid off, as Current reports an average 150% ratings bump for the convention, and a peak bump of 600%. It's a good bet that a substantial portion of that audience was made up of the younger viewers that have been a bright spot for the network since they started their mission.
During the commercial breaks, and after the coverage ended, I asked Cenk, Fugelsang, Gov. Spitzer, and surprise visitor Jayar Jackson to weigh in on Gov. Granholm's speech, the convention as a whole, and what question they'd like to see asked at the upcoming presidential debates:
Follow Tommy Christopher (@TommyXtopher) on Twitter.
Have a tip we should know? tips@mediaite.com