Exclusive Interview: Former RNC Chair Michael Steele On Leaning Forward At MSNBC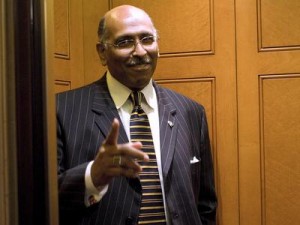 Former RNC Chairman Michael Steele's tumultuous tenure as head of the national GOP was marked by his tendency toward outspokenness, a tendency that earned him little reward. Since he become a contributor for MSNBC almost a year ago, however, that tendency has become an asset. Although still a strong critic of President Obama, the Chairman isn't afraid to tell uncomfortable truths about his own party. In the first part of our exclusive interview, Chairman Steele shared what it's like to be a conservative Leaning Forward.
The job of national party chairman, Republican or Democratic, is normally a very predictable mixture of pushing out talking points, and trying to raise money for the party. Former Maryland Lt. Governor Michael Steele, however, inherited a Republican Party in a historic shambles, having been swept out of office on the tide of the historic election of Barack Obama.
A different approach is what was needed, and that's what the Republican Party got. Under intense scrutiny, Chairman Steele took heat from right and left alike for his unorthodox style, outreach priorities, and that outspoken streak, but as he'll tell you, it's hard to argue with success: Steele's Republican Party swamped the Democrats in the 2010 midterms.
Shortly after his defeat in the 2011 RNC chair election, Mr. Steele began making guest appearances on cable news shows, and showed surprising chemistry with MSNBC star Rachel Maddow, while holding his own in appearances with that network's resident firebreather, Ed Schultz. A few months later, Steele became a regular paid contributor to the network, and can now be seen all over the MSNBC schedule.
I reached the Chairman by phone Tuesday, and I have to say, he was extremely patient and generous with his time (we spoke for over an hour, with frequent child-fueled interruptions on my end). I started right in by asking him what it's like to be the conservative at a (mostly) progressive-leaning network, which MSNBC personalities he has gravitated towards, and whether any of those leanings have rubbed off on him. Here's the first part of our exclusive interview:
Have a tip we should know? tips@mediaite.com