Exclusive: Joy Reid Says Her New MSNBC Show Won't Be an 'Hour of Why Republicans Suck'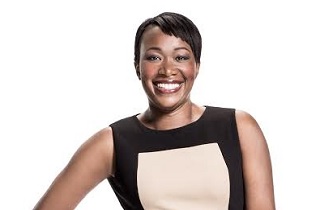 MSNBC recently announced that longtime contributor and fill-in host Joy Ann Reid would be getting her own weekday show at 2 pm, starting February 24th. That show now has a name, The Reid Report, to go along with its host, who took a few minutes to fill Mediaite in on what viewers can expect.
The idea for a Joy Reid show has been kicking around for a long time, but in its final stage, it's blasted off relatively quickly. In October, I took a shot in the dark with a highly-placed source at MSNBC, asking when Joy would be getting a show, and was told to "stay tuned." Barely a quarter later, here she is.
Joy was with her godmother in Washington, DC when she got the call from Phil Griffin telling her he wanted her to join their new dayside lineup. "He was very enthusiastic," she says, "but he didn't say 'this is what I want you to do,' the way Phil works is that he wants the hosts to be who they are."
The name of her show, The Reid Report, is also a good reminder of Joy's unique qualifications, because it's also the name of her long-running blog and her Twitter feed. That essential new and social media experience, though, comes along with extensive old media experience and reporting chops that are tough to find in one package. "People already know me from The Reid Report," she says, "so why not go with what people know?"
The name was also given the seal of approval by Joy's social media followers, over my own suggestion, Reid: All About It. "Maybe Reid: All About It can be a segment," she says.
"We are going to be the table-setter for prime-time, we are coming out of the MSNBC straight-up news block, where you get your who, what, when, where, why, and we're going to do a deep dive into policy and analysis, but we also want to have a little fun," Reid says. "It's two in the afternoon, so we want to do a lot of policy and politics, but we also want to focus on the things that are happening in the culture right then and there."
"Everyone here (at MSNBC) has a different, unique perspective, they're all really smart, and they're all interesting people that you want to hear talk," Joy says. "I have a different perspective, I grew up out west, in Colorado, I'm not from the East Coast, I've lived in a lot of places, I lived in Florida for awhile, Massachusetts, New York. I'm a first-generation American, so I kind of look at the culture differently, and I'm bringing that unique perspective. I'm fascinated by the Middle East, so I really want to talk about international issues, I'm fascinated by politics, I've worked on campaigns, so I come at covering politics from having worked on it from that end. There are also issues that are very important in an election year, such as access to the ballot, but also getting granular on issues and policies that you won't hear about the rest of the day, even on MSNBC."
Although the show now has a host, a name, and a mission, Joy says she's leaving the rest a mystery until the show debuts, but says, definitively, that there will be no pastry plate. "The other pastry plates that are out there are doing a fine job, and we wouldn't want to take away from the Up pastry plate, and the Melissa Harris-Perry pastry plate, they do a fine job, and I don't think I can top that."
Joy's reporting background figures to come in handy in her new post, as well as her roots in MSNBC sister site TheGrio.com. "We broke a lot of news there," she says, "like the billboard story, tracking down who put up those billboards warning people away from the polls," adding that "What I plan to do is, with the sources and information that I have, seek it out, we'll be honest, we'll be fair, but do I want to break news? Absolutely."
"TheGrio is an important resource, they're a great source of editorial and news content. I read The Grio every day," Joy says. Asked what else she reads every day, Reid ticks off a list that includes The Daily Beast, The Atlantic, The Washington Post, The Miami Herald, ThinkProgress, New York Magazine, and The New Yorker. She cops to reading Politico, "so I can get the Beltway memes of the day," and disappointingly confesses to having "a bit of a Buzzfeed thing," but adds that "one of the first things I do in the morning is I fire up Twitter, because it's so much easier and quicker to get a round of what's going on out there, rather than going from site to site."
Like a lot of smart journalists, Joy also follows many of the reporters who write for the sites she reads.
Asked if she plans to beat the balls off her competition, Reid replies "I'm not doing a show based on the competition, I'm confident that if I do a great show, and I give people information, and I make it fun and interesting to watch, the ratings will take care of themselves," graciously adding "I respect my colleagues at the other networks greatly, and I wish them well."
Joy also says she'd like to have conservatives on the show, although she won't name a dream conservative guest list. She names Reihan Salam and Robert Costa as conservatives she respects, but prefers to keep the element of surprise in booking conservatives. Her dream pop-culture guest? Lupita Nyong'o, the Oscar-nominated star of 12 Years a Slave.
Although race is an important issue to Reid, she's got a uniquely level-headed approach to it, which doesn't keep conservatives from criticizing her anyway. "I get some of these people in my social media feeds, and I'd say if you think anyone black who mentions race is a racist, you need some serious self-examination. It's become a really interesting tic on the right, and it's a strategy to shout down any person of color who mentions race, up to and including the president."
She identifies race as a central issue in our politics, particularly with regard to voting rights and immigration, and adds that "there's a zeal, on the right, to be able to call someone a racist, and it's almost an emotional release. It's a strategy to silence people."
Joy sums up her mission by saying that she wants "to have a really interesting conversation with our audience. I'm not on there to do an hour of why Republicans suck, I don't think I have to do that, I think what MSNBC does really well is to have a really smart conversation both with the left, and the right. We may not get that right all the time, but I don't know a mean-spirited person in this building."
Have a tip we should know? tips@mediaite.com