Exclusive: MSNBC to Expand Morning Joe One More Hour; Kate Snow Gets Afternoon Role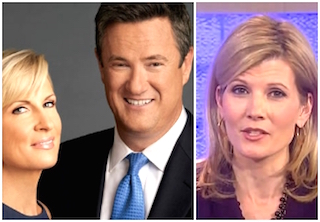 More sweeping changes are coming to MSNBC per a well placed source.
As reported in this space exclusively last week, Kate Snow of NBC News will be taking on a substantial role in MSNBC's dayside programming. Ms. Snow formerly a weekend anchor for Good Morning America and a frequent face seen on the NBC Nightly News and Dateline will inherit the 3-5 p.m. ET time slot on weekdays on MSNBC.
Also of major note, Morning Joe will be expanded to a four-hour program (it's currently three). Starting soon, the political roundtable show can be seen from 6 a.m. ET until 10. Note: With the 2016 race heating up, and the great political theater that has come with it and only promises to continue, it only makes sense to expand the network's editorial page in the morning.
One notable causality to emerge from these moves is current 9-11 a.m. anchor José Díaz-Balart. With Morning Joe going to 10 a.m., Tamron Hall will then take over the 10-12 noon slot, thereby leaving Mr. Díaz-Balart as the odd man out.
For the rest of the afternoon, Andrea Mitchell will stay in the 12-1 p.m. position. Likewise, Thomas Roberts will remain in the 1-3 p.m. slot that he took over a few months ago as the network began its pivot from opinion to (mostly) hard news programming.
Following the aforementioned Snow in the 3-5 p.m. block will be Chuck Todd at 5 p.m., a move that was also previously reported by Mediaite in late July.
What remains to be seen is who fills the small shoes of Al Sharpton at 6 p.m. as he moves to Sunday mornings. Changes may be coming to MSNBC primetime as well, as network executives still are mulling exactly what to do at 8 p.m. with the struggling Chris Hayes. Another source indicates that Willie Geist may get his own program at that time, replacing Hayes, but that is not confirmed at this time. The Wrap's Jordan Charlton had reported the same possibility earlier this summer.
As the old saying goes, the only constant in life is change. That's particularly true in cable news, where pressure to beat the competition is marked and recorded every show, every hour, every quarter-hour.
MSNBC has now revamped a solid majority of its lineup in the same of a few months. The turn to hard news and bigger names continues.
The question is, will all of these changes pay off?
>>Follow Joe Concha on Twitter @JoeConchaTV
[Photo via MSNBC]
Have a tip we should know? tips@mediaite.com