Exclusive Rachel Maddow Interview Part 1: On Ratings, Reckless Romney, And More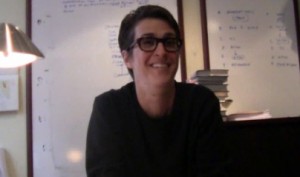 Just prior to going on the air and beating every Fox News program in the 25-54 demographic Tuesday night (and therefore, every cable news show, period), The Rachel Maddow Show host Rachel Maddow sat down with me for an exclusive interview (yes, I take full credit). In the first part of our interview, Rachel discussed the hard work that goes into making the show, the pressures of an unusual format, Mitt Romney's foreign policy misadventures, and the nostalgic pangs of the Palin era that Romney evokes.
One of the surprising things about Rachel Maddow is that, given the obvious amount of work and polish that goes into her show, the poise, eloquence, and personality she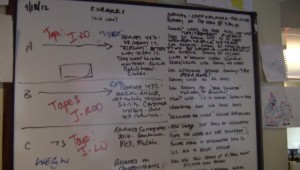 displays onscreen is pretty much what you get offscreen. Prior to our interview, TRMS Executive Producer Bill Wolff walked me through the paces of the program's showprep, some of which centers around a massive handwritten whiteboard. One of Rachel's little handwritten notes on the board is about Virginia Governor Bob McDonnell, but it casually refers to him simply as "Governor Ultrasound," a moniker she uses for him on the show. That's not a put-on, that's what she really calls him, that's how he is known around the office. The Rachel Maddow you get on TV is absolutely authentic.
That show prep begins at around noon, as Wolff lists possible stories on that white board, while Rachel reads and writes in her office. From about 2 to 3 pm, Rachel and her staff go over the whiteboard, making notes and narrowing down or combining the stories into the six or seven segments you see on the show. From three on, Rachel and the show's writers and producers put the show together, keeping an eye out for late developments like Monday's Romney hidden video bombshell that throws the earlier plan out the window.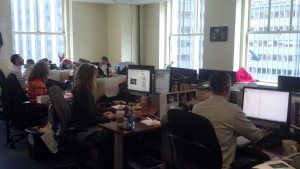 Both Rachel and Wolff are quick to share credit with the staff, who are charged with maintaining TRMS' distinctive Maddowian voice, which they accomplish seamlessly. Rachel does have a hand in all of the writing, and writes several complete segments a week, but her staff makes it seem, to the viewer, as if she has written and polished every tile in the mosaic of stories they construct every night.
The storytelling method of The Rachel Maddow Show shouldn't work the way it does. In a cable news landscape of shrinking attention spans and even smaller news cycles,  TRMS requires a commitment of time and attention from the viewer that should make it a low-rated critical success at best, something people claim to watch when they're hiding their Jersey Shore habit. Since her debut in 2008, buoyed by a strong lead-in from then-powerhouse Countdown, Maddow has delivered consistently high ratings for MSNBC, but this week may just mark a tipping point. MSNBC's coverage of the Democratic National Convention brought in insane numbers, and it looks like maybe a bunch of those viewers have stuck around, launching TRMS past its Fox News competition in the advertiser-friendly 25-54 demo.
I asked Rachel about the work that goes into the show. Many of her colleagues at the network are quick to volunteer Rachel as the hardest-working member of a pretty damned tireless team. "I think people who are really good a their jobs," she says, with characteristic self-effacement, "you can't tell how hard they're working. With me, you can always tell how hard I'm working, because I flail."
In the first part of our interview, Rachel also talked about the pressures of her format and ratings (she points out that Lawrence O'Donnell has become something of a stealth star lately, in terms of performance against his timeslot competitors), what she would like to hear asked during the debate, and her reaction to Mitt Romney's handling of the violence in Libya. On the latter count, Rachel offered a canny gut-level assessment of Romney's recent foreign policy missteps. "We, as a country," she said, "rely on the election, and the primary process, vetting people well enough so nobody hould get this close to the presidency who is that reckless with things that are that important."
Here's the first part of our exclusive interview (stay tuned for part two):
Follow Tommy Christopher (@TommyXtopher) on Twitter.
Have a tip we should know? [email protected]