Exclusive: Robert Gibbs Responds to Megyn Kelly Segment on President's 'Back Seat' Remark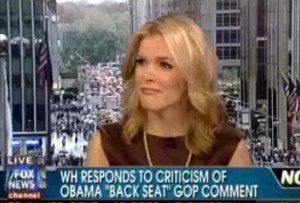 Days after the White House responded to critics who tried to cast President Obama's remark that Republicans "have to ride in the back" as a reference to Civil Rights-era segregation, the right continues to grasp at straws like a soda jerk having a heart attack. Fox News' Megyn Kelly and guest Monica Crowley chewed over Press Secretary Robert Gibbs' explanation of the remark Wednesday, which included a reference to Kelly.
After the jump, check out the clip, and Robert Gibbs' exclusive reaction to it.

When Kelly first commented on the President's remark, an extension of the familiar car-in-the-ditch metaphor for the economy, she didn't specifically peg it to segregation, but reported widespread raising of eyebrows. This time, her guest did the heavy lifting:
I sent the clip to Robert Gibbs to get his reaction to it, and here's what he said: (via email)
After I stopped laughing at the ridiculousness of it, I thought the fact that the two had this discussion with a straight face was amazing.
In all fairness, it's not clear from this clip that Megyn Kelly did keep a straight face as Crowley asserted that "riding in the back certainly does have some civil rights, some racial overtones."
Remember, we're talking about the back seat of a car, not a bus. Granted, "move to the back of the bus" has a strong, instant connection to our shameful segregationist past.
But the back seat of a car? When you think of who rides in the back seat of a car, you think of whining children, the loser who never pitches in for gas, and rich dudes in limousines (in the case of the Republicans, Gibbs would probably call that a trifecta). It takes either an extreme act of willful ignorance, or a total lack of empathy for those who were touched by segregation, not to know the difference.
To her credit, Kelly never actually agrees with Crowley, and tries to emphasize the general "incivility" of the remark. However, she doesn't laugh right in her face, either. Not audibly.
Have a tip we should know? tips@mediaite.com