EXCLUSIVE: Sean Hannity Hits Back at Scarborough: 'Do They Hold Hands Under The Desk?'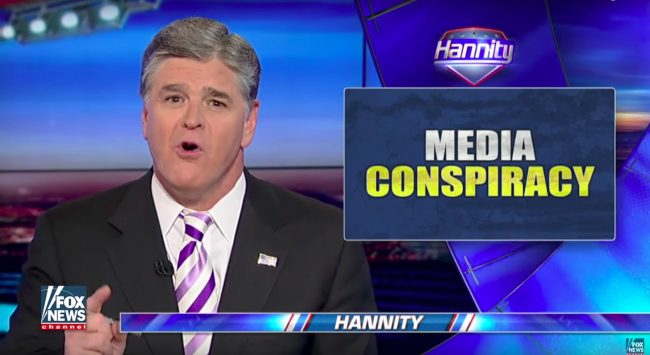 Earlier today, Morning Joe host Joe Scarborough took aim at fellow cable news host Sean Hannity in a manner that one doesn't typically see.
Taking exception to Hannity's continued coverage of the conspiracy surrounding Seth Rich's death — a report that is so thinly sourced that FoxNews.com retracted it — Scarborough called Hannity's coverage "gross and repulsive" before going on to deride the Fox News personality as having "no shame."
We reached out to Mr. Hannity, who is currently enjoying an early Memorial Day vacation, for comment on Scarborough's critique. Hannity did not demur. 
"LOL, Joe and Mika are so cute together. Do they hold hands under the desk?" he told Mediaite, adding "That would be the only reason to watch the low rated daily emotional breakdowns they have."
Hannity is facing scrutiny for his continued coverage of the Rich story, which has led some advertisers to request to not be included on Hannity's 10PM show. But to paraphrase Mark Twain, the reports of Hannity's departure from Fox News have been greatly exaggerated, as the network has publicly supported their prime time host.
[image via screengrab]
Have a tip we should know? [email protected]