Exclusive: Senior CNN Exec Shares Motivation Behind Full-Page Ad Taunting MSNBC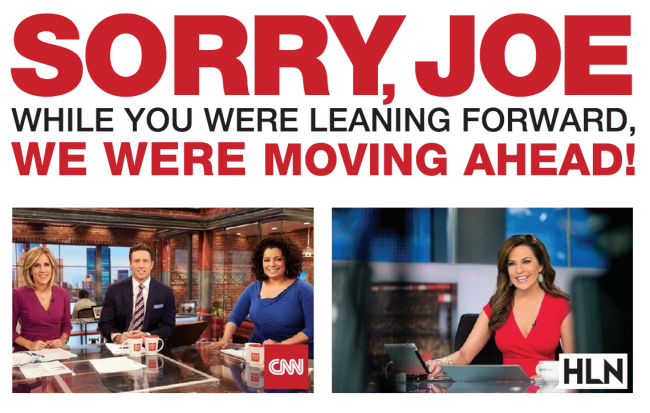 One question not addressed in my column around CNN taking out a full-page ad to taunt MSNBC's Morning Joe for falling to fourth place in the cable news morning race was the "why" aspect.
To that end, I reached out to a senior executive at CNN for comment, and that person had plenty to say on the matter.
Read our Q&A, plus my own thoughts, below.
—
CONCHA: So what prompted taking out a full-page ad in the New York Times specifically on behalf of New Day and Morning Express (HLN) aimed at Morning Joe?
CNN EXEC: "MSNBC actually took out a full color ad in the Times last month (December 2) touting their beating CNN for five straight years. That's silly for two reasons: New Day has only been on the air 18 months and they tout total viewers because they can no longer claim the demos."
That ad below:
[NOTE: The demo is 25-54-year old viewers who advertisers primarily base their buying decisions on. That's why when you see any ratings report, said demo is always reported first, with total viewers almost an afterthought. Every cable news exec — Fox, CNN, HLN, MSNBC — bases the success and failure of a program almost solely on demo performance).]
CONCHA: In an interview with The Wrap a few weeks ago, the executive producer of Morning Joe (Alex Korson) said, "I love the fact that we've hired this year and CNN has had a lot of public layoffs. How did that statement resonate with management at CNN?
CNN EXEC: "Here's the deal: You cannot take pleasure in anyone else laying off people. These are people's livelihoods. It was offensive beyond all belief. And more than anything else, that's why we did the ad."
CONCHA: I mentioned in the column that improving morale may have partly served as incentive for the full-page ad as well. Did that aspect play a role here?
CNN EXEC: "This was as much about internal morale as sticking it to them for saying that obnoxious quote. I cannot tell you how good the people at CNN, a punching bag for years, felt about CNN being on the offensive for once. This was also about HLN. After a year in which they thought they were going to be sold, HLN is doing well."
—
In looking at this week morning's numbers, it appears the trend is continuing comfortably in CNN and HLN 's favor over Morning Joe, with HLN's Morning Express with Robin Meade even doubling up MSNBC on Monday in the demo and New Day doing the same and then some on Tuesday. So why has MOJO lost its MOJO? We'll explore that on Sunday.
In the meantime, the "why" question around the impetus behind the ad is answered on several levels: Morning Joe threw the first punch with a full-page ad of their own last month. And then Joe's executive producer made it personal via publicly celebrating people losing their jobs and bringing schadenfreude down to a whole new level. Boosting morale and going on the offensive played a role as well.
It appears Fox News wasn't mentioned because the #1 network wasn't the focus. In watching both morning shows on CNN and Fox, it's easy to see they're decidedly different brands which happen to occupy the same timeslot. If looking for a network comparison, think CBS This Morning (New Day) vs. ABC's Good Morning America (Fox & Friends) in terms of approach and philosophy (with the difference being F&F's daily dives into political discussion, something GMA mostly avoids). In the end, both networks appear happy with the hand it's holding, particularly Fox, which is still beating New Day on most days by a 2-to-1 margin.
Cable news networks trade barbs all the time. Full page ads — not so much. By upping the ante, things are getting more interesting in the cable news wars.
Because this time… it's personal.
— —
>> Follow Joe Concha on Twitter @JoeConchaTV
Have a tip we should know? tips@mediaite.com