Exclusive: The Not-So-Scandalous Reason Behind MSNBC's Delay of Baldwin Announcement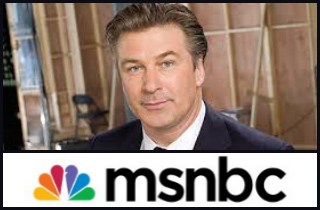 It's so…it's finally official.
MSNBC has just announced Alec Baldwin is coming to cable.
President Phil Griffin said in a statement that he "can't wait to bring his personality and eclectic interests" to the Lean Forward network. "He's got such passion for ideas and what's going on in the world…he's going to be a great addition to our line-up."

When I broke the story one month ago, my source said the deal was already a foregone conclusion. In following up just today (upon realizing that MSNBC hadn't made an announcement yet) with another source close to the situation, he indicated the reason behind the delay in confirming my original report was an understandable one: Baldwin's wife, Halaria, was expecting a baby within the coming weeks (she delivered two weeks ago), and Baldwin asked for two weeks to help his wife with the baby before going public with the announcement. To that end, there was simply no reason to make the deal official until the 55-year-old actor's personal schedule was relatively free.
Another reason for the delay (my own hypothesis): Cable news in August is like preseason football.
Sure, it's on TV. And yes, it's still a contact sport. But it's primarily a show featuring backups, and most importantly, the games are only exhibitions and not the real thing.
Same goes for cable news: Throughout various parts of the month, while your favorite hosts were on a beach earning 20 percent (name that movie reference, earn valuable prizes), the JV teams were on full display and in many cases, were a refreshing break from the usual. Some like FNC's Tucker Carlson even did double duty (filling in for Sean Hannity at 9:00 PM and turning around at hosting Fox & Friends at 6:00 AM the next morning). No word on the tuckered-out Tucker getting the starring role in any sequel for Inception.
With the passing of Labor Day come two things: The return of the NFL regular season (Seahawks will win the Super Bowl, BTW) and the return of starting lineups in cable news. New players can make a roster as well, as we're seeing with Baldwin and the announcement of model/actress Carol Alt (her small role in Howard Stern's Private Parts in vastly underappreciated) landing a health show on Saturday afternoons on Fox.
Changes are coming fast and furious everywhere as summer turns to fall. For example, CNN's Crossfire has also been moved up one week, primarily due to the robust debate surrounding Syria. Originally scheduled to begin September 16th, the show is now slated to begin this Monday.
As for Baldwin, a Friday night show won't necessarily mean a later version of Hardball. Progressive politics will be in play, sure, and Baldwin certainly passes the smell test in terms of MSNBC ideology. But Fridays are generally reserved for lighter fare, so one has to believe a Baldwin hour will be more in the Larry King than the Chris Matthews mold. Regardless of format, Griffin was forced to do something, anything, to reverse was has been the worst year for the network in nearly a decade.
Will Baldwin help make a difference? Given the unappealing timeslot (Fridays at 10:00 PM is among the lowest-rated of the week), this won't do very much to move the needle…unless Baldwin is somehow utilized on other shows on the network, and even that doesn't bring any guarantees.
And so it goes in cable news.
Which—at least when in standard news mode devoid of breaking events like Syria—is becoming less about, well, news and more about infotainment.
It's really just a matter of demand and supply.
The American audience wants more talk, more opinion.
Alec Baldwin won't be the last celebrity to be given his own show in what used to be politics-and-news territory.
He's likely the first of many.
— —
Follow Joe Concha on Twitter @ConchSports
Have a tip we should know? tips@mediaite.com