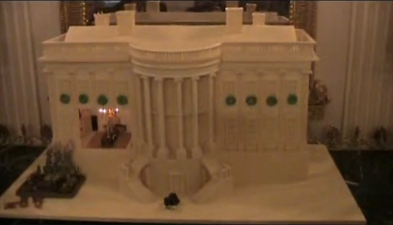 What does it take to stop a crowd of White House reporters in their tracks? A ridiculously detailed, edible miniature gingerbread White House, that's what.
I was among the press touring the White House "holiday" decorations, and while we all hustled pretty quickly through most of it, Chef Bill Yosses' appetizing abode drew a sustained crowd. Find out all of the important facts about the Gingerbread White House, including a shocking truth that the chef didn't want to tell us.
Taking pictures of Christmas decorations isn't really my idea of a great time, but it was an opportunity to cover Michelle Obama for the first time, so I jumped at it. She delivered remarks before the tour, and aside from that and a weird Christmas-meets-acid-trip diorama in the East Room, the decorations were pretty snore-worthy. The tree was big and well-lit, and was festooned with 800 or so hand-decorated ornaments from around the country.
But then, there was the gingerbread house. I hadn't eaten all day, so that enhanced my interest in the subject. It was also a rare opportunity to interview a White House staffer who wasn't super on-message.
Chef Bill was amazingly patient in answering the same question over and over again (I bet he's saying "marzipan" in his sleep), and his patter reminded me a lot of the suddenly "controversial" pool reports that Glynnis reported about earlier.
Some facts about the house itself: According to Chef Bill, it's almost 400 pounds of chocolate and gingerbread depicting the South Portico, based on the original original design by White House architect James Hoban. They've cut out part of the South wall so you can peek into the State Dining Room, and little personalizing details make it unique, like a marzipan version of Mrs. Obama's vegetable garden and a mini-white-pawed Bo front and center (well, not so mini, and not to scale, Chef Bill confirmed). It took about 6 weeks to prepare by a few staffers – "Master Chocolatier" Chris Phillips, assistant White House Pastry Chef Susie Morrison (who wielded the bandsaw necessary to cut the inch-thick blocks of gingerbread for the walls), and all hands in the kitchen, and beyond: "Everybody gets involved in this house – the carpenters, the engineers" (the house uses LED lighting). The whole thing is edible except for a glass chandelier. It's 56 x 29 inches, about 250 pounds of chocolate and 140 of gingerbread. I'll have to take his word that it's delicious.
Me being me, of course, I couldn't resist the urge to try and throw him off-message. While I buttered him up with some chef-ly shop talk, I also pressed him about the ultimate fate of his labor of love, which he finally divulged.
Have a tip we should know? tips@mediaite.com