Exonerated Man Sues Nancy Grace for Defamation After She Calls Him 'Serial Killer'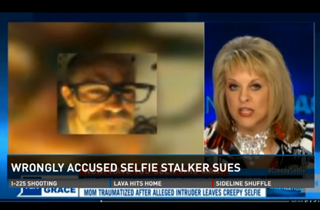 An man whose photo somehow ended up on the phone of a crime victim is suing Nancy Grace for defamation, after she refused to retract her statements that he was a "selfie stalker" and kept airing his photo — despite the fact that his name was cleared.
While reporting on a home invasion case in Denver, Colo., Grace inaccurately stated that Ben Seibert had snapped a self-portrait with the victim's phone before leaving, a move she called a "textbook serial killer's calling card," and called him out by name.
Police later discovered that the photo was actually Seibert's Facebook profile photo and that he was in California at the time, but not before Seibert had been discovered by the internet and labeled a "a weirdo, a sicko, a rapist and a pervert," the New York Post reported. Despite the police clearing him of wrongdoing, Grace never retracted her claims, and according to the suit, she continued airing the segment with his photo and the social media harassment continued. "It hasn't been easy for him as a result of this," Seibert's attorney told the Post.
Seibert filed suit in Denver on Monday, seeking $100,000 in damages. Turner Broadcasting, the parent company of HLN, which airs Grace's show, did not return requests for a comment, reported the Post.
What's more, Seibert's lawyer hopes that his case will inspire other victims of Grace to come forward, noting that the host was often admonished for unethical behavior during her time as a practicing lawyer. "Based on the history we've researched regarding Ms. Grace, we're pretty confident there are other victims," he told the Post.
[NYP]
[Image via screenshot/HLN]
— —
>> Follow Tina Nguyen (@Tina_Nguyen) on Twitter
Have a tip we should know? tips@mediaite.com