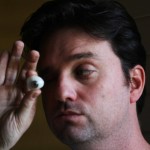 I'm no stranger to losing body parts as I am a one-eyed guy. That's why part of me sympathizes with 65 year old Bill Rice who had the tip of his pinkie finger bitten off at a Health care rally last Wednesday. Course it was only after he punched out some mystery pro-health reform guy in the face a second time. According to Bill the guy called him an idiot. More in a Washington Post article here.
However, in the small town where I come from in Canada, if you punch a guy in the face twice you had best be prepared for some retaliation. But even in Belleville, Ontario biting a dude's finger off is a bit much. A bite much?
This is one of the strangest interviews I have ever seen. Watch Fox News Neil Cavuto stumble through this total weirdness. Cavuto sort of wants to be outraged but Rice makes it pretty clear he punched a guy in the face twice.
A combination of the media sleepiness of Labour Day weekend and the fact that this doesn't look good on the left or the right has combined to make this story quieter than it could have been. Rice admits that he is medicated during the interview which might be why he is so calm and surprisingly serene. At the end of the interview he articulates fairly well where a lot of the anger from the right is coming from. Its not really about health care, he says, this is part of a bigger grab at government control, a "diversion" in his words. The right really is good at this stuff though. Like, John Kerry was a coward for actually going to Vietnam while Bush, who wriggled out of duty, didn't have this issue. Likewise, a black president trying to make health care more universal is a Nazi. Kind of impressive spinning.
Here's a video I cut together that takes a look at the health care debate the last little while – featuring Bill Rice. And Rolf as Doctor Bob from the Muppets! Oh, come on, as if the health care debate could get any weirder.
Rob Spence is a director and producer in Toronto, Canada whose work has appeared on Discovery, Vision, Space TV and the CBC (Canadian Broadcast Corporation), for which he made the controversial documentary, Let's All Hate Toronto. Currently, he is in development on a documentary about how video and humanity intersect escpecially with regards to surveillance.  That's where the whole cyborg thing comes into it. Learn more about the Eyeborg here.
Have a tip we should know? tips@mediaite.com