Ezra Klein Fantasizes 'Reverse of 1994' Where Gun Control Propels Dems Into House Majority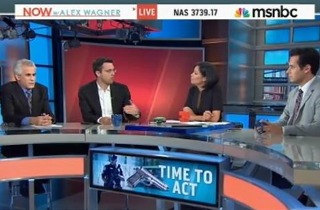 The lack of interest in or support for new gun laws in the wake of the latest mass shooting may be taking a toll on the "gun safety advocates" populating MSNBC's Now panel desk. On Wednesday, Washington Post blogger Ezra Klein permitted himself a moment to fantasize about a public which embraces gun control legislation and votes pro-Second Amendment lawmakers out of office. Then, Klein imagined, a "reverse of 1994" would end the National Rifle Association's influence in Congress forever.

Huffington Post reporter Sam Stein began by castigating a Republican officeholder for insisting that each time there is a tragedy like the Navy Yard mass shooting, it cannot be met with an outburst of legislating.
"We haven't legislated after any mass shooting," he insisted.
"Maybe just do it once and see how it goes," Mother Jones reporter David Corn joked.
"For anyone who's optimistic about gun control, and I don't think I've met anyone who is, you shouldn't be," Stein continued. "We had a shooting of 20 first graders. We had a congresswoman shot in the head and nothing happened."
"I don't understand why anyone would think anything would happen after this," he concluded. "I hate to be such a cynic, but it's the political reality."
Alex Wagner called it a "gross bastardization of democracy" that no new gun laws have been passed since the Newtown massacre in December, 2012. She said that the NRA appears to have thwarted the will of the vast majority of American voters.
RELATED: Two Democratic State Senators Lose Seats in Colorado Gun Control Recall
While Klein was no more sanguine about the prospects for passing new gun laws than Stein, he let himself to envision a world where Democrats are rewarded for embracing stricter gun laws.
"To be fair to democracy, this could all end in the next election if people who cared about gun safety voted out members of congress who stood in its way," Klein insisted.
"There is a very clear vehicle for the American people to make their voices heard," he continued. "If that happened and if it happened to be the reverse of 1994."
"So much of this belief in Congress, that you can't touch guns, comes from the belief – and a lot of pollsters believe it is mistaken – that, in 1994, a big part of the reason Republicans recaptured the House was the Assault Weapons Ban," Klein added. He said that, if his anti-1994 sweep occurred, it "would be the end of the NRA's power in Congress."
Meanwhile, in the vast and thriving world outside the studio, Democratic leaders in Congress have actively ignored the demands of their more liberal caucus-members who want new gun laws passed. This is, at least in part, due to the fact that two of Colorado's Democratic lawmakers in districts carried by President Barack Obama in 2008 and 2012 were forced out in recall elections specifically for their support for strict new gun laws.
Furthermore, the last failed push for new gun laws sapped the president of political capital and public support, jeopardizing the passage of the rest of his second term agenda.
That kind of disincentive to pursue the policy prescriptions of self-styled wonks has a way of focusing the minds of lawmakers who rightly value their office over the opinions of MSNBC contributors.
Watch the clip below via MSNBC:
[Photo via screen grab]
— —
> >Follow Noah Rothman (@NoahCRothman) on Twitter
Have a tip we should know? tips@mediaite.com