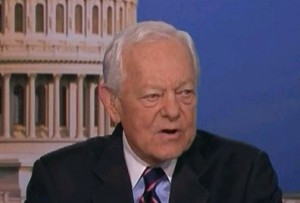 Look, we can all pretty much forgive Rick Perry at this point for his bizarre speech in New Hampshire over a week ago, if for no other reason than it was the first bit of comic relief we've seen on the campaign trail in quite a while. Bob Schieffer described Perry's speech as "bizarre," which is now in the running for Understatement of the Year™.
Perry supporter Ken Blackwell tried to defend Perry by arguing that the YouTube clip of Perry's ramblings was heavily edited and in the full speech he offered more substantive explanations for his proposed economic solutions and his governing record. Schieffer brought up Howard Dean's ill-fated scream during the 2004 election, which GOP strategist Ed Rollins described as "the end of his candidacy."
RELATED: Joe Scarborough Sees Rick Perry Speech And Thinks 'Valium, Vicodin and Vodka'
However, Rollins doubted this bizarre moment of Perry's would spell the end of his campaign, and pointed out that candidates are mostly always mindful of the fact that cameras are recording everything they say, and attempts at making a joke might not go over so well.
Liz Cheney thought talking about this in the first place was completely pointless, which Schieffer tried to justify by saying "we're talking about the election," but Cheney noted that more important to the campaign are the issues. Issues are important, but it's not every day you get a political candidate speak in public while on a drug of some kind. And damn it, the American people have a right to know what Rick Perry ingested into his body before giving that speech!
Ed Gillespie agreed with Blackwell that the YouTube clip was edited, but honestly, why are they trying to run from this? Why not just embrace it? If this is the Rick Perry that wants to be the President of the United States, he should just forget conventional wisdom and bring this new energy to the American people! I can see the campaign now… "Perry 2012: Let's All Get Wasted!"
Watch the video below, courtesy of CBS:
Have a tip we should know? tips@mediaite.com
Josh Feldman - Senior Editor