Watch Rep. Paul Ryan's 'Obama-Cool' Reaction To President's Hot Mic Remarks About Him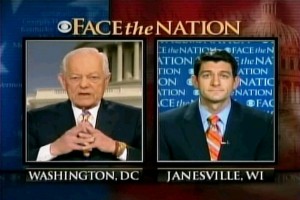 On Sunday morning's Face the Nation, host Bob Schieffer seemed to be setting Rep. Paul Ryan up for a sort of political "2 Girls, 1 Cup reaction video," placing Ryan in splitscreen as he listened to President Obama's candid "hot mic" remarks at a Chicago fundraiser earlier this week. While the President's fiery remarks were a departure from his characteristic cool, Ryan's pulse never got above 85.

The Obama/Paul Ryan dynamic has undergone a shift in the last week or so. Ryan's budget proposal got heaps of praise from the political media for being "courageous," even as they were split on the substance, but in the artificial world of media optics, the President seemed to regain some momentum with his speech on the budget, leaving Republicans to lament the President's tone.
In much the same way, President Obama's supposed "screwup" this week, the public airing of remarks that were supposed to be closed to the press, has probably helped him, too. Critics on both sides of the aisle have long expressed a wish that the President would get worked up once in awhile.
Ryan's reaction can best be described as cool, classy, taking the high road, but in the face of a (relatively) blistering attack by President Obama, Ryan runs the risk of coming off as weak. In American politics, for better or worse, victory is often decided based on who looks stronger, not who has the best ideas. As happy as many Democrats are that President Obama is finally hitting back, Republicans ought to take a look at how well complaining about the meanies usually works out.
From CBS News:
Have a tip we should know? tips@mediaite.com