Factor Panelists Dispute Bill O'Reilly's Claim That Obama Is Bad For The Economy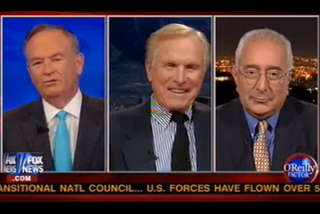 Bill O'Reilly came back from vacation just as President Obama began his– and the inevitable criticism over going on vacation followed. But O'Reilly didn't mind it; in fact, he argued that getting the President away from the stock market could only help. His panel, however– economist Ben Stein and businessman Wayne Rogers— differed strongly, the former arguing the President was a positive influence on the economy, and the latter denying the President had much influence at all.
O'Reilly prompted the panel asking whether everything he said in the "Talking Points Memo" (mostly, that the President letting the market settle itself without him giving a speech for a few days would be good) was true. "Absolutely not," piped up Stein, instead offering, "almost every part of it is wrong." Stein countered that he believed the President to be a positive influence on the economy, agreeing only with O'Reilly's approval of the vacation, as "he works very hard and deserves a vacation." Rogers didn't come to O'Reilly defense, either, but for different reasons: the President, he argued, "is a neutral force– I don't think he's much of a force at all." Rogers' argument was that any president, not just President Obama, would have trouble influencing the economy, because "the ability to make law is in the Congress's, not the president's, hands.
O'Reilly then argued against both of them, making the observation that "every time he goes on television and talks about the economy– the stock market drops 200 to 300 points every time he shows up." He could barely finish the sentence amid protests from both Stein and Rogers that "that has nothing to do with it," until O'Reilly shifted gears to the national debt and, subsequently, the taxation issue.
O'Reilly and Stein then sparred for some time on whether taxing millionaires was useful to reduce the deficit, with Stein even arguing that a wealth tax independent of the income tax would be a good solution. He further contended that "there's no correlation between tax rates on millionaires and the growth of the economy" or between raising taxes and revenue. O'Reilly dismissed these arguments at face value, challenging Stein to explain how there wasn't a relationship between business owners not having enough money to create more jobs and them having to pay more of that money in taxes.
The segment via Fox News below:
Have a tip we should know? tips@mediaite.com