Fair And Balanced? O'Reilly's Obama Interview Struck Different Tone Than Bush Interview In '06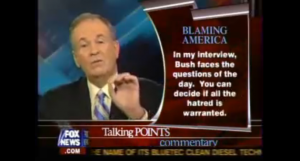 Those of you who were able to carve out some time to watch Fox News' Super Bowl Sunday interview between Bill O'Reilly and President Barack Obama in between overdosing on chicken wings and sharing one's deep offense at Groupon's Super Bowl ad with all of one's Twitter followers saw that, as expected, the conservative pundit – not being one to lob too many softballs in the first place – was relatively tough (But fair?) on the Commander in Chief.
Our own Matt Schneider described portions of the interview as being "slightly contentious" (particularly – no surprise here – on the topics of Egypt and health care reform). Frances Martel, writing about the second half of the interview, felt O'Reilly appeared to have "targeted his questions in a way that perfectly rewards both his regular viewers and the folks watching football that happened upon his interview," pointing towards O'Reilly having given Obama a platform for sharing what he felt FNC could "do better."
One of the main talking points borne out of the interview was, predictably, O'Reilly's pointed question on whether Obama was "disturbed that some people hate (him)." Former Speaker Nancy Pelosi took issue with the use of the word "hate," and Morning Joe co-host Mika Brzezinski found herself wondering whether O'Reilly would have asked such a question of George W. Bush.
Fortunately, we have the ability to take a look back on the 2006 interview O'Reilly conducted with Bush and contrast the two. During the interview, O'Reilly wonders whether President Bush is a more hated president than predecessor Bill Clinton, and muses about the extent to which Bush is a victim of "vitriol" at the hands of a left-leaning press.
While the questions posed are similar – at around the 2:00 mark, for instance, O'Reilly asks President Bush how he feels about his 40 percent approval rating – the tone is markedly different. For one, O'Reilly never uses the word "hate" when framing his question to Bush, choosing instead to take a less confrontational route.
It's also worth noting that the rhythm and tone of the two interviews are different as well, with O'Reilly allowing Bush more opportunity to finish his thoughts and sentences.
To his credit, O'Reilly is able to create a rapport with both men to the extent that it feels as if he's speaking to personal acquaintances and real individuals rather than a pair of distant, untouchable political figures. It should also be noted that O'Reilly is a savvy media figure who knows his audience (and, perhaps more importantly, he knows what gets his critics sputtering), so it would make sense to alter his questions and package his interviews with a Republican president quite differently than with a Democrat.
But don't just take my word for it. Watch Part 3 of O'Reilly's interview with Bush (chosen because it focuses on "Bush haters," and, thus, serves as an interesting book end to O'Reilly controversial "hate" question to Obama) below, as well as O'Reilly's look back on his interview with Obama, both from Fox News Channel. In the latter, O'Reilly shares a clip from another interview with Bush, where he indeed does discuss "hate" and "haters":
Have a tip we should know? tips@mediaite.com