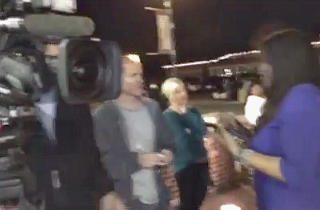 Monday evening in Ferguson, Mo., protestors shouted down a CNN camera crew's live shot reporting on developments in the story involving Officer Darren Wilson killing of 18-year-old Michael Brown earlier this year.
During the 11 p.m. hour, host Don Lemon attempted to throw to CNN reporter Sarah Sidner for an update, but the broadcast was overwhelmed by shouting and interruptions from protestors surrounding the crew. Sidner attempted to talk through the shouting, but her audio was clearly problematic. Lemon cut her off and ended the satellite broadcast due to technical issues.
On-the-ground video from Bassem Masri shows the aftermath, in which several protestors continue berating Sidner, telling her they are "holding [her] accountable" for CNN being among a crop of outlets "lying to us since day one."
"If we don't get it! Shut it down!" the crowd began to chant, as Masri declares that CNN is run by "Zionists." The cable network's cameraman began dismantling his equipment as Sidner and staff exited the scene to a chorus of goodbyes and shouts. Several protestors threatened: "If you continue lying, we'll come shut you down in Atlanta."
It's unclear whether the protestors or the technical difficulties were the actual reason for CNN leaving that spot.
UPDATE — 4:42 p.m. ET: A CNN spokesperson tells Mediaite that Sidner's crew did not leave because of the crowd but because of the technical difficulties they were experiencing from that location.
Watch the on-the-grounds footage below:
And what aired on CNN below, via, well… CNN:
[h/t @mettawordlife83]
— —
>> Follow Andrew Kirell (@AndrewKirell) on Twitter
Have a tip we should know? tips@mediaite.com