'Falling Apart?' Fox & Friends Hosts Ask if 'Obamacare' Delays Are 'Beginning Of The End' Of Law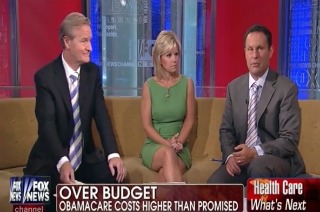 On Tuesday, the hosts of Fox & Friends asked if the delays in the implementation of certain aspects of the Patient Protection and Affordable Care Act of 2010 represent the "beginning of the end" of a law. The combination of delays in aspects of the law designed to increase coverage with the expanding costs of implementing the law had the Fox hosts asking whether the ACA is simply not feasible as designed.

Gretchen Carlson began by detailing the delays in the implementation of the law; the first, that the employer mandate to cover health insurance would be postponed, and the second that the government would be unable to verify whether individuals seeking subsidized insurance were eligible for that program. Both key aspects of the law were postponed until 2015.
RELATED: Bret Baier: 'Taxpayer Dollars Going Out The Window' With Latest 'Obamacare' Delay
"Could this be the beginning of the end for a law that so many Americans really never liked from the beginning?" she asked.
The hosts played a clip of Texas Gov. Rick Perry telling Greta Van Susteren on Monday night that the state insurance exchanges were simply unworkable. "What do you really expect from a piece of legislation that the vast majority of the members of Congress didn't read before they voted on," Perry said. "This administration's just kind of making it up as they go."
Steve Doocy wondered if the administration knew that the estimated cost of the program's implementation was likely to increase when they proposed the law. He cited Charles Krauthammer who alleged on Monday that the administration knew they were underestimating the law's costs all along.
Watch the clip below via Fox News Channel:
> >Follow Noah Rothman (@NoahCRothman) on Twitter
Have a tip we should know? [email protected]