Fallon Chokes Up, Thanks 'Gracious' Leno In Official Tonight Show Announcement On Late Night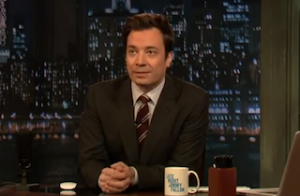 After Jay Leno offered a semi-serious congratulations to the new host of the Tonight Show and David Letterman jokingly warned of danger to come at NBC, Jimmy Fallon got the chance to address his new role on Late Night.
Rather than make jokes about the transition in his monologue, Fallon waited until was seated at his desk and offered a heartfelt thank you to his staff and crew, house band The Roots and his fans for helping him get where he is today. "It's a lot more emotional for me than I thought it was going to be," Fallon said, visibly holding back tears.
"I've got to say thanks to Jay Leno," Fallon added, "for being so gracious through this whole thing. It's means so much to me to have his support."
Watch video below, via NBC:
One other late night host who couldn't make it through his show last night without mentioning the Tonight Show deal was Conan O'Brien. If there's anyone who knows how Jimmy Fallon feels right now it's O'Brien, who saw his dream of hosting the Tonight Show turn into reality in 2009, only to have Leno come back and take the job away from him just months later.
Like Fallon, O'Brien also discussed the issue while seated, congratulating Fallon on the new job. "That is a really fun gig," he said, drawing unintended laughter from his audience. "You laugh, but it's a fun gig. And Jimmy is the perfect guy to do it. He's going to do a fantastic job, so congratulations Jimmy!"
Watch video below, via TBS:
—
>> Follow Matt Wilstein (@TheMattWilstein) on Twitter
Have a tip we should know? tips@mediaite.com