'False Promise' Of Transparency: Alan Colmes, Tucker Carlson Clash Over Gov't Officials' 'Secret' Email Accounts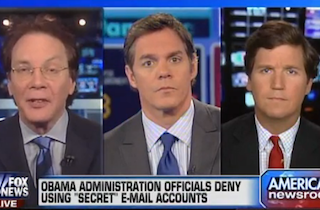 "Is that okay or is the government hiding something?" That was the question Alan Colmes and Tucker Carlson tackled during a Fox News panel on Wednesday, pegged off reports that some Obama administration appointees used "secret" email accounts. Carlson and Colmes agreed there should be more transparency — but repeatedly differed on the notion of secrecy.
On Tuesday, White House Press Secretary Jay Carney defended the accounts (both parties have done it) and rejected the characterization of them being secret because "they are subject to FOIA requests and they are subject to congressional inquiry, just like their public addresses."
It's understandable that officials have private emails given the amount of emails they receive, Carlson said. But it's not understandable to violate the law "by not making those emails public," which he said the likes Kathleen Sebelius have done when they received FOIA requests. "They didn't even turn over the email addresses, the aliases," he noted.
"This is secret, it's wrong, and it's illegal," he summed up.
Colmes agreed that the administration hasn't turned over as many emails as they should have — but didn't find the accounts to be deceitful given that these are public figures. "They are secret if you don't tell anybody," Bill Hemmer responded.
"This is by definition secret," Carlson pressed, while adding that Colmes was correct that previous administrations have been secretive as well. But President Obama's vow of transparency has turned out to be a "false promise," he argued.
Colmes agreed with Carlson "in principle," but continued to push back against the notion that any aspect of this was a "secret."
Take a look, via Fox News:

Have a tip we should know? tips@mediaite.com